Word Count and Reading Stats for the Old Testament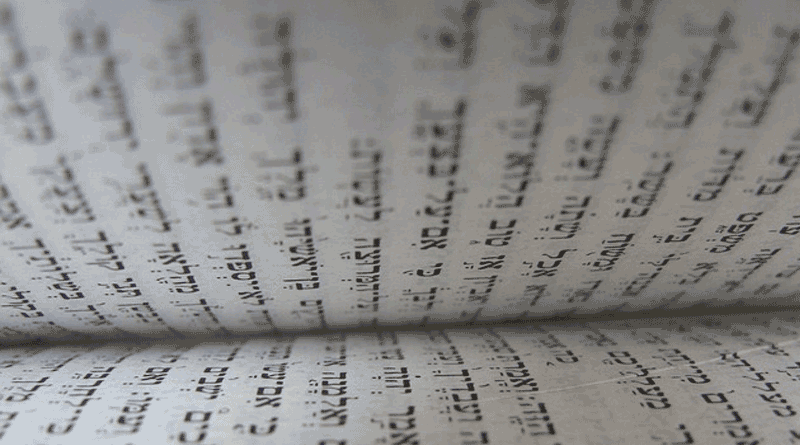 Well, it's that time of year again: that time when a lot of us commit to reading the entire Bible. So in the the spirit of Luke 14:28, I offer the below table of milestones that will hopefully give us a sense of how long it will take to get through the Old Testament.
All of the data is drawn from the NASB. I've included the chapter count, verse count, word count as well as a reading/listening estimate (assuming the reader has a slow pace of 150 words per minute, although I should note that Dale McConachie reads the NASB at around 170 wpm).
Hope this helps! Happy Reading!
Protestant Old Testament
| | | | | | |
| --- | --- | --- | --- | --- | --- |
|   | Book | Chapters | Verses | Words | Hrs |
| 1 | Genesis | 50 | 1,533 | 37,357 | 4.2 |
| 2 | Exodus | 40 | 1,213 | 31,848 | 3.5 |
| 3 | Leviticus | 27 | 859 | 24,227 | 2.7 |
| 4 | Numbers | 36 | 1,288 | 31,452 | 3.5 |
| 5 | Deuteronomy | 34 | 959 | 27,637 | 3.1 |
| | SUB-TOTAL | 187 | 5,852 | 152,521 | 16.9 |
| 6 | Joshua | 24 | 658 | 18,503 | 2.1 |
| 7 | Judges | 21 | 618 | 18,320 | 2.0 |
| 8 | Ruth | 4 | 85 | 2,478 | 0.3 |
| | SUB-TOTAL | 49 | 1,361 | 39,301 | 4.4 |
| 9 | 1 Samuel | 31 | 810 | 24,361 | 2.7 |
| 10 | 2 Samuel | 24 | 695 | 20,087 | 2.2 |
| 11 | 1 Kings | 22 | 816 | 23,638 | 2.6 |
| 12 | 2 Kings | 25 | 719 | 22,740 | 2.5 |
| | SUB-TOTAL | 102 | 3,040 | 90,826 | 10.1 |
| 13 | 1 Chronicles | 29 | 942 | 19,524 | 2.2 |
| 14 | 2 Chronicles | 36 | 822 | 24,701 | 2.7 |
| 15 | Ezra | 10 | 280 | 6,799 | 0.8 |
| 16 | Nehemiah | 13 | 406 | 9,871 | 1.1 |
| 17 | Esther | 10 | 167 | 5,457 | 0.6 |
| | SUB-TOTAL | 98 | 2,617 | 66,352 | 7.4 |
| 18 | Job | 42 | 1,070 | 17,302 | 1.9 |
| 19 | Psalms | 150 | 2,461 | 43,179 | 4.8 |
| 20 | Proverbs | 31 | 915 | 14,847 | 1.6 |
| 21 | Ecclesiastes | 12 | 222 | 5,458 | 0.6 |
| 22 | Song of Solomon | 8 | 117 | 2,714 | 0.3 |
| | SUB-TOTAL | 243 | 4,785 | 83,500 | 9.3 |
| 23 | Isaiah | 66 | 1,292 | 36,111 | 4.0 |
| 24 | Jeremiah | 52 | 1,364 | 42,130 | 4.7 |
| 25 | Lamentations | 5 | 154 | 3,362 | 0.4 |
| 26 | Ezekiel | 48 | 1,273 | 37,666 | 4.2 |
| 27 | Daniel | 12 | 357 | 11,735 | 1.3 |
| | SUB-TOTAL | 183 | 4,440 | 13,1004 | 14.6 |
| 28 | Hosea | 14 | 197 | 5,075 | 0.6 |
| 29 | Joel | 3 | 73 | 1,941 | 0.2 |
| 30 | Amos | 9 | 146 | 4,110 | 0.5 |
| 31 | Obadiah | 1 | 21 | 627 | 0.1 |
| 32 | Jonah | 4 | 48 | 1,280 | 0.1 |
| 33 | Micah | 7 | 105 | 3,020 | 0.3 |
| 34 | Nahum | 3 | 47 | 1,185 | 0.1 |
| 35 | Habakkuk | 3 | 56 | 1,410 | 0.2 |
| 36 | Zephaniah | 3 | 53 | 1,569 | 0.2 |
| 37 | Haggai | 2 | 38 | 1,077 | 0.1 |
| 38 | Zachariah | 14 | 211 | 6,260 | 0.7 |
| 39 | Malachi | 4 | 55 | 1,802 | 0.2 |
| | SUB-TOTAL | 67 | 1,050 | 29,356 | 3.3 |
| | TOTAL | 929 | 23,145 | 592,860 | 65.9 |
Tanak (The Hebrew Bible)
| | | | | | |
| --- | --- | --- | --- | --- | --- |
|   | Book | Chapters | Verses | Words | Hrs |
| 1 | Genesis | 50 | 1,533 | 37,357 | 4.2 |
| 2 | Exodus | 40 | 1,213 | 31,848 | 3.5 |
| 3 | Leviticus | 27 | 859 | 24,227 | 2.7 |
| 4 | Numbers | 36 | 1,288 | 31,452 | 3.5 |
| 5 | Deuteronomy | 34 | 959 | 27,637 | 3.1 |
| | TORAH SUB-TOTAL | 187 | 5,852 | 152,521 | 16.9 |
| 6 | Joshua | 24 | 658 | 18,503 | 2.1 |
| 7 | Judges | 21 | 618 | 18,320 | 2.0 |
| 8 | 1 Samuel | 31 | 810 | 24,361 | 2.7 |
| 9 | 2 Samuel | 24 | 695 | 20,087 | 2.2 |
| 10 | 1 Kings | 22 | 816 | 23,638 | 2.6 |
| 11 | 2 Kings | 25 | 719 | 22,740 | 2.5 |
| 12 | Isaiah | 66 | 1,292 | 36,111 | 4.0 |
| 13 | Jeremiah | 52 | 1,364 | 42,130 | 4.7 |
| 14 | Ezekiel | 48 | 1,273 | 37,666 | 4.2 |
| | PROPHETS SUB-TOTAL | 313 | 8,245 | 243,556 | 27.1 |
| 15 | Hosea | 14 | 197 | 5,075 | 0.6 |
| 16 | Joel | 3 | 73 | 1,941 | 0.2 |
| 17 | Amos | 9 | 146 | 4,110 | 0.5 |
| 18 | Obadiah | 1 | 21 | 627 | 0.1 |
| 19 | Jonah | 4 | 48 | 1,280 | 0.1 |
| 20 | Micah | 7 | 105 | 3,020 | 0.3 |
| 21 | Nahum | 3 | 47 | 1,185 | 0.1 |
| 22 | Habakkuk | 3 | 56 | 1,410 | 0.2 |
| 23 | Zephaniah | 3 | 53 | 1,569 | 0.2 |
| 24 | Haggai | 2 | 38 | 1,077 | 0.1 |
| 25 | Zachariah | 14 | 211 | 6,260 | 0.7 |
| 26 | Malachi | 4 | 55 | 1,802 | 0.2 |
| | THE TWELVE SUB-TOTAL | 67 | 1,050 | 29,356 | 3.3 |
|   | NEVI'IM SUB-TOTAL | 380 | 9,295 | 272,912 | 30.3 |
| 27 | Psalms | 150 | 2,461 | 43,179 | 4.8 |
| 28 | Proverbs | 31 | 915 | 14,847 | 1.6 |
| 29 | Job | 42 | 1,070 | 17,302 | 1.9 |
| 30 | Song of Solomon | 8 | 117 | 2,714 | 0.3 |
| 31 | Ruth | 4 | 85 | 2,478 | 0.3 |
| 32 | Lamentations | 5 | 154 | 3,362 | 0.4 |
| 33 | Ecclesiastes | 12 | 222 | 5,458 | 0.6 |
| 34 | Esther | 10 | 167 | 5,457 | 0.6 |
| 35 | Daniel | 12 | 357 | 11,735 | 1.3 |
| 36 | Ezra | 10 | 280 | 6,799 | 0.8 |
| 37 | Nehemiah | 13 | 406 | 9,871 | 1.1 |
| 38 | 1 Chronicles | 29 | 942 | 19,524 | 2.2 |
| 39 | 2 Chronicles | 36 | 822 | 24,701 | 2.7 |
| | KETHUVIM SUB-TOTAL | 362 | 7,998 | 167,427 | 18.6 |
|   | TOTAL | 929 | 23,145 | 592,860 | 65.9 |
[UPDATE: I went back and corrected a bunch of these numbers. Several of them were off from the Bibleworks database (even then, though, the BW database is counting 11 dashes as words, so I'm not sure what's up with that). Anyway, these are more accurate than the ones I posted last January. I also added a table that reorders the books so they align with Tanak order.]