Copying the Pericope Adulterae from Codex Vaticanus
Continuing through the "Big Ones".
Paper: 4.5" by 7" Moleskin journal
Pen: Pilot G2 0.7
Transcription: Greek New Testament (Codex Vaticanus) (GNT-VAT) Novum Testamentum Vaticanum, edited by Aenoth. Frid. Constant. Tischendorf. Lipsiae: Giesecke et Devrient, 1857. Text digitized and morphologically tagged by Rex A. Koivisto (Multnomah University, Portland, Oregon USA) Copyright © 2009 OakTree Software, Inc. All rights reserved. Version 3.0
Manuscript: Vat.gr.1209 (page 1365)
I'm in love with the image quality from the Vatican Digital Library. I'm sitting in Starbucks looking at a 1,500 year old manuscript housed at the Vatican, so I'm not gonna be a choosy beggar...but if I were a choosy beggar, I'd say I wish they hadn't watermarked it. I understand the reasoning why, but some of these features are difficult to explain even without a watermark, let alone without having to explain the watermark as well.
John 7:50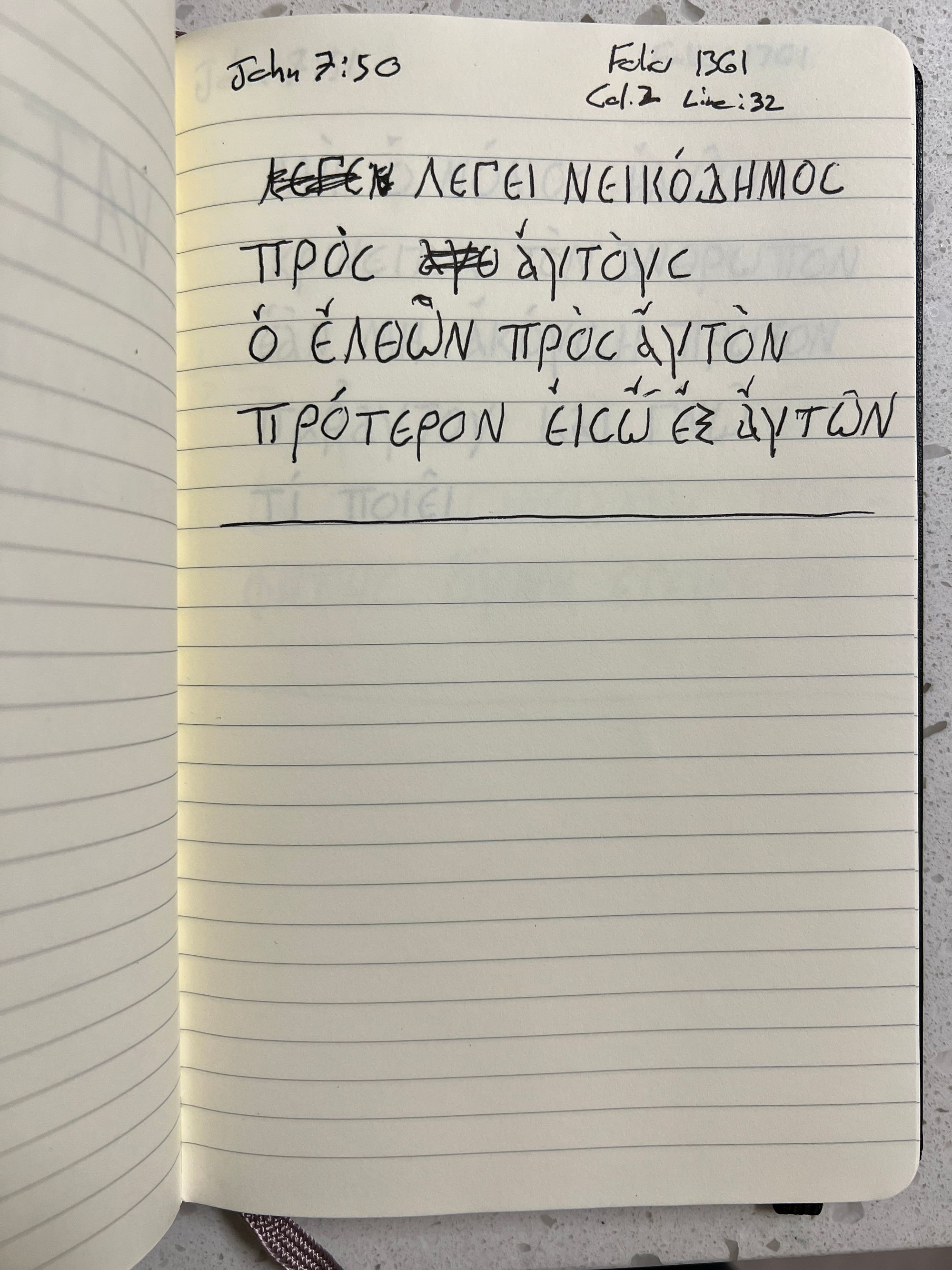 It's extremely annoying to screw up the first word. I suppose that's the fruit of overconfidence. My eye just read through into ⲚⲈⲒⲔⲞⲆⲎⲘⲞⲤ.

John 7:51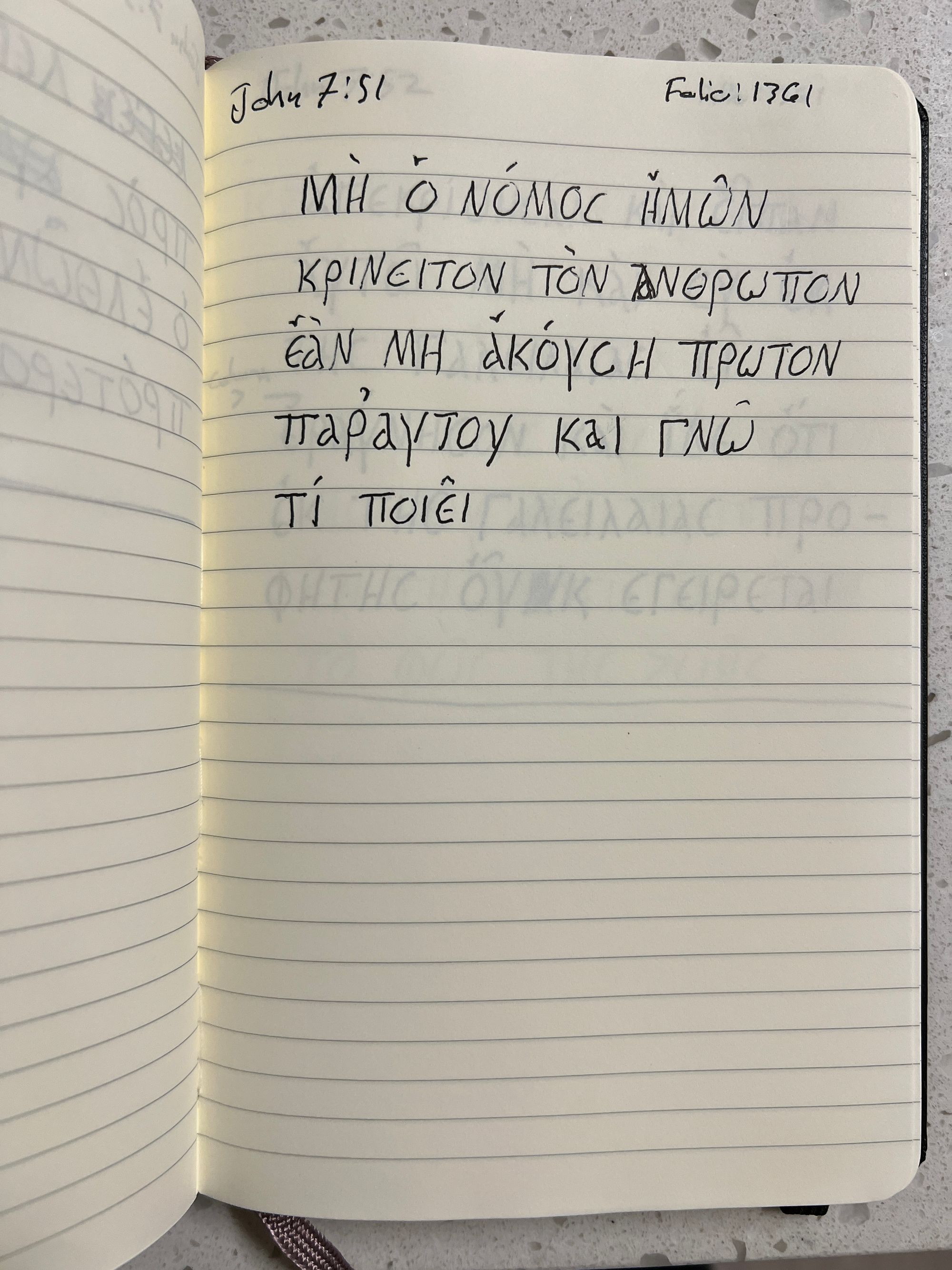 It's fantastic that the manuscript includes breathing marks. That makes spotting word separation much easier.
Not sure what happened with the Ⲁ in ⲀⲚⲐⲢⲰⲠⲞⲤ.
John 7:52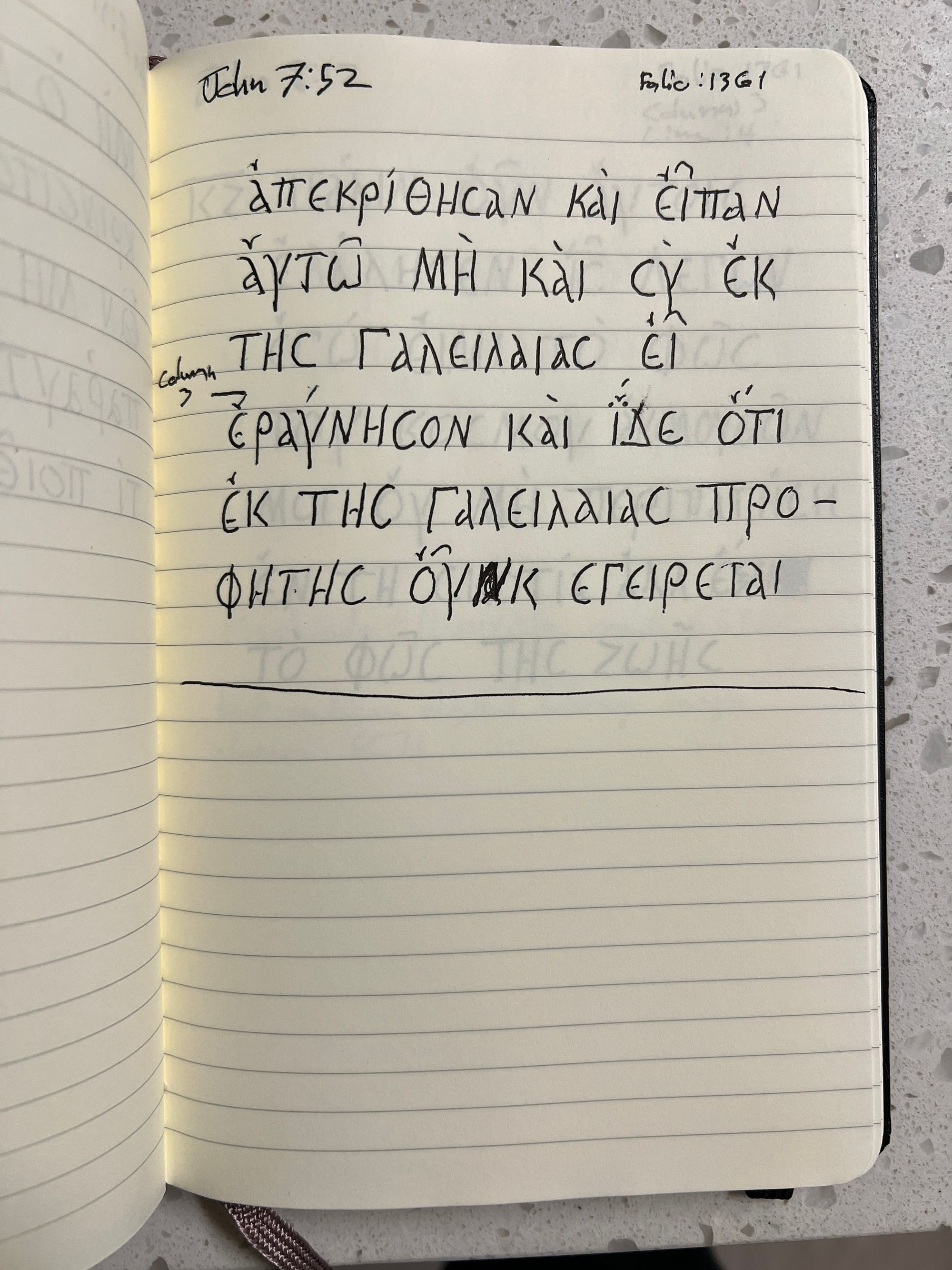 Probably the most subtle column break in copying history. I'm still not sure what my notation system is at all.
I also divided ⲠⲢⲞⲪⲎⲦⲎⲤ (A nice departure from how I usually try to cram it in), but it's interesting that my instinct was to follow the modern convention of including the dash.
I almost committed a homeoarchy between the ⲞⲨ in ⲞⲨⲔ (Col. 3, Li0ne 3) and the ⲞⲨ in ⲞⲨⲚ (Line 4):

It's very cool to spot that kind of error in the wild.
John 8:12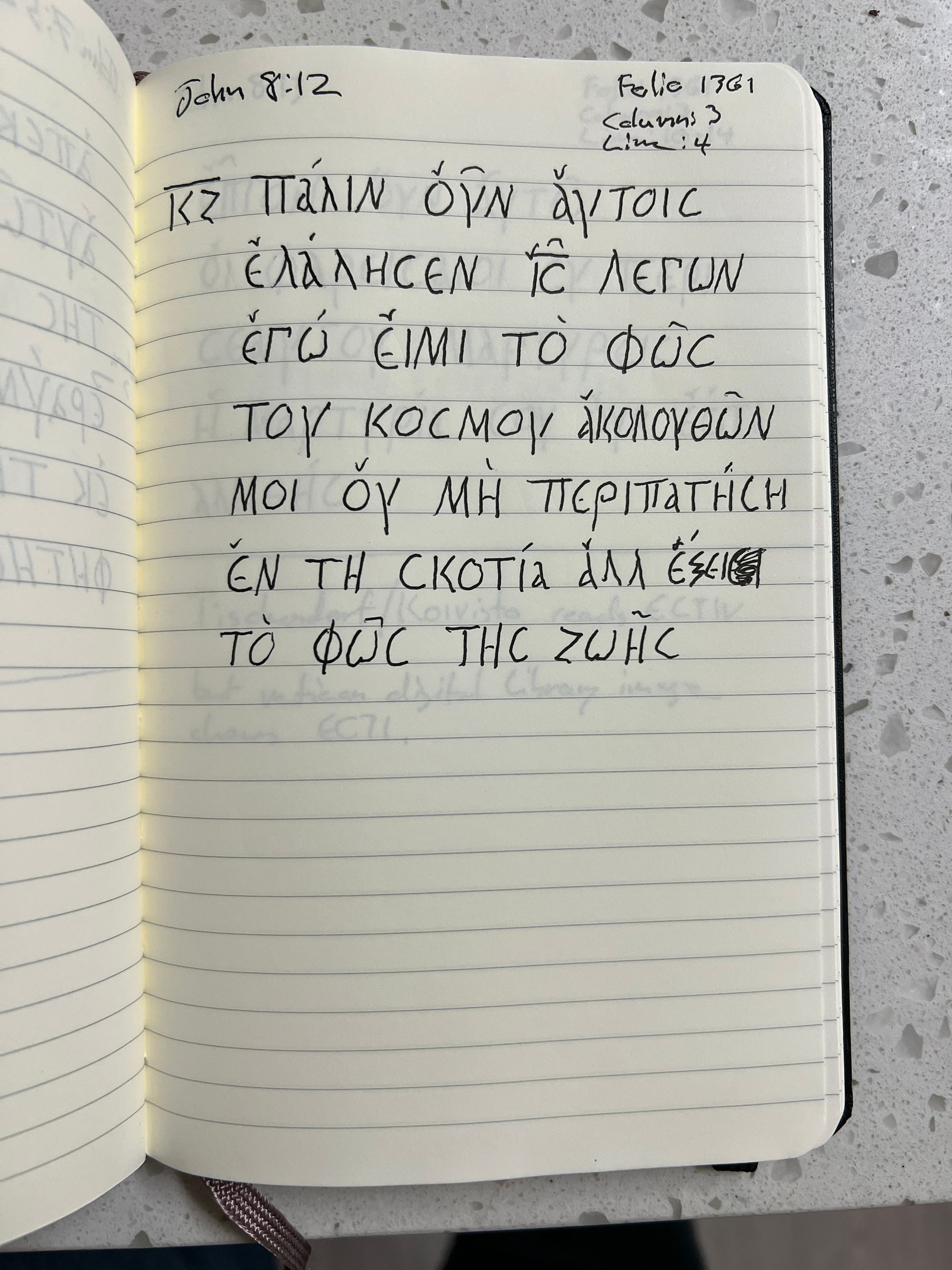 Obviously, the notable thing here is how the manuscript rolls from 7:52 to 8:12.

I don't know what the ⲔⲌ is doing. It looks like paragraph numbering(?), but I need to find a good source.
In my copy, it looks like I scratched out an ⲈⲒ, which means either some dittography in ⲈⲜⲈⲒ or else haplographic error by skipping down to the ⲈⲒ in ⲈⲒⲠⲞⲚ.

John 8:13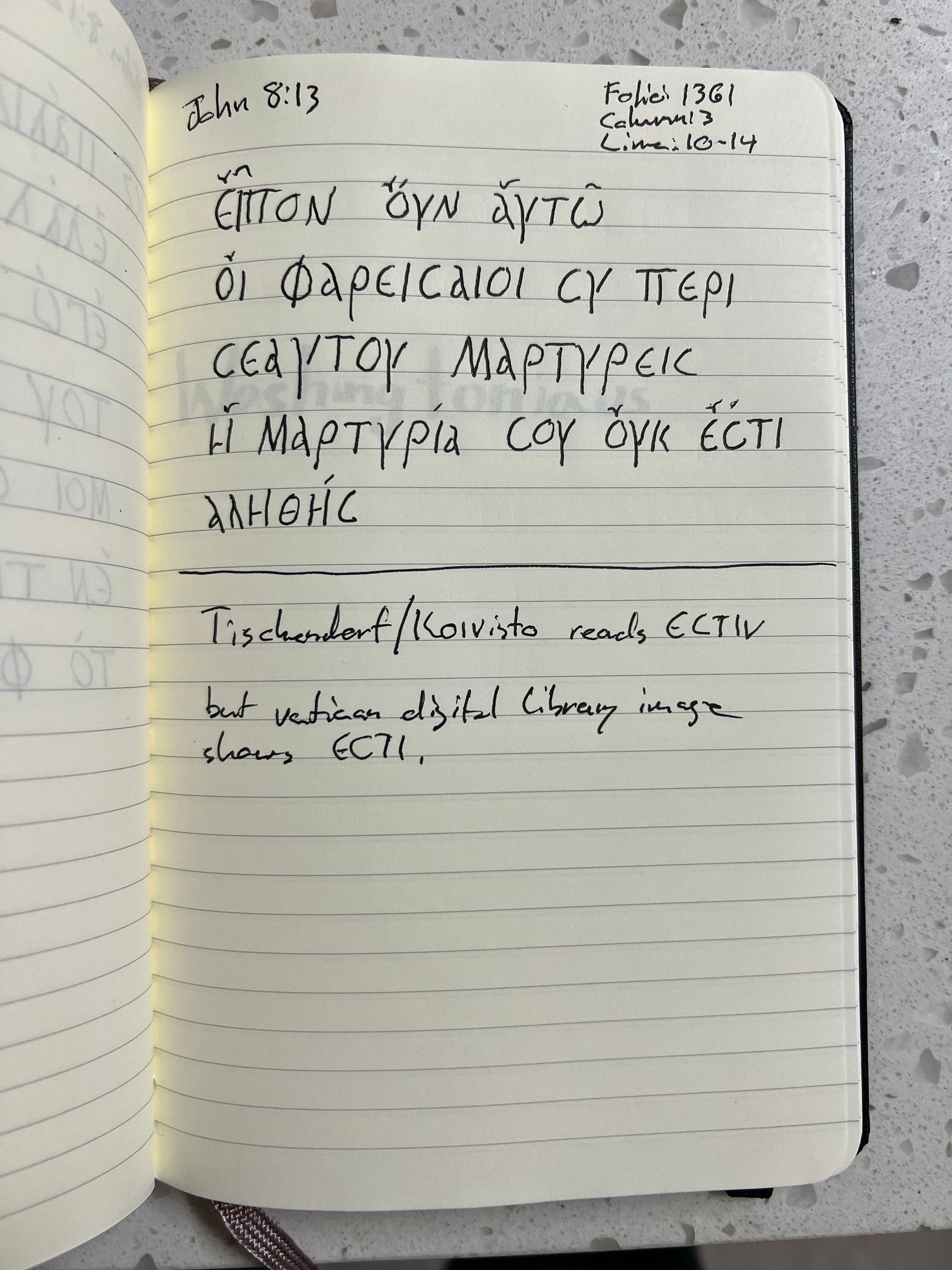 Another discrepancy between the manuscript and the published transcription. It looks like the movable Ⲛ at end of ⲈⲤⲦⲒⲚ is missing in the manuscript.
Here's the manuscript:

And here's the published transcription next to the NA28:

On a whim, I bought a copy of the published transcription, I'll have to check that when I get home.
UPDATE: The Vaticanus Bible also does not include the movable Ⲛ.

Reflections
I'm again blown away by how remarkably clean and legible the manuscript is. I think a lot of my errors were due to how accessible the source script is. Of course, that resulted in less care in my own copying.
Having only done a few of these (so far, only D and א), it is interesting to notice how "careless" I'm becoming, especially as I've gotten so familiar with both the script and the text. That's interesting to reflect on when I think about the poor souls who were doing this every day vocationally.