Copying the Pericope Adulterae from Codex Washingtonianus
After Bezae, Sinaticus, and Vaticanus, I was feeling pretty confident. Then I met Washingtonianius.

This was a comparatively more difficult script to read, so I ended up checking the transcription much more frequently. So big thanks to Henry Sanders.
Paper: 4.5" by 7" Moleskin journal
Pen: Pilot G2 0.7
Transcription: Greek New Testament (Codex Washingtonianus) (GNT-WAS) The New Testament Manuscripts in the Freer Collection, Part I: The Washington Manuscript of the Four Gospels, by Henry A. Sanders. New York: Macmillan, 1912. Text digitized and morphologically tagged by Rex A. Koivisto (Multnomah University, Portland, Oregon USA) Copyright © 2009 OakTree Software, Inc. All rights reserved. Version 3.1
Manuscript: GA 032
John 7:50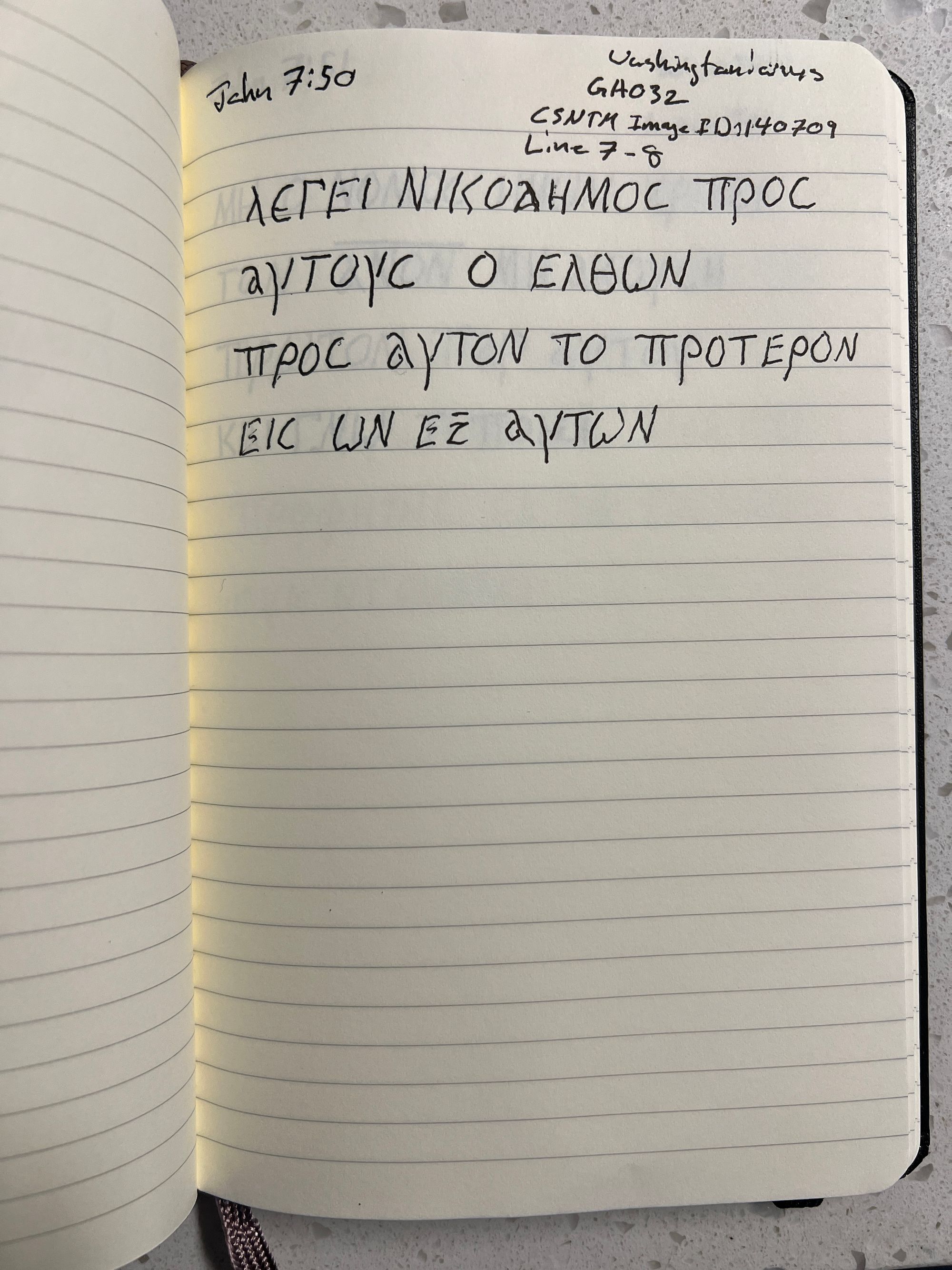 I ended up matching the more squared E and the more distinct ξ, both of which are kind of cool.
John 7:51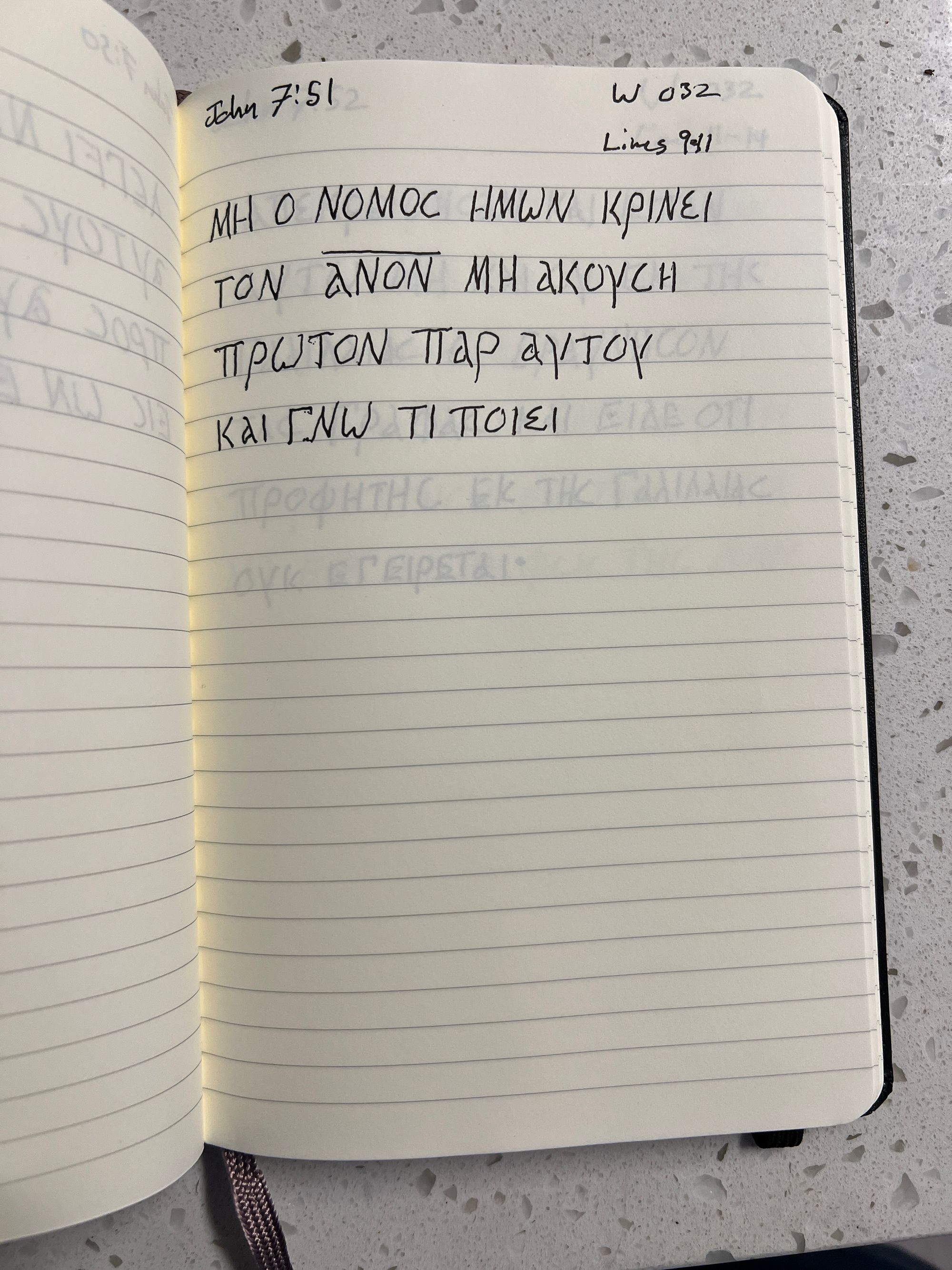 Either I learned my lesson from Vaticanus or the more difficult script forced me to slow down enough to avoid more obvious mistakes.
I'm intrigued by the abbreviation of ⲀⲚⲐⲢⲰⲠⲞⲚ. Sanders gathers the data,
and concludes:
Henry A. (Henry Arthur) Sanders, The New Testament Manuscripts in the Freer Collection (New York : Macmillan, 1918), http://archive.org/details/newtestamentmanu00sanduoft. 11, 12.
So that's interesting.
John 7:52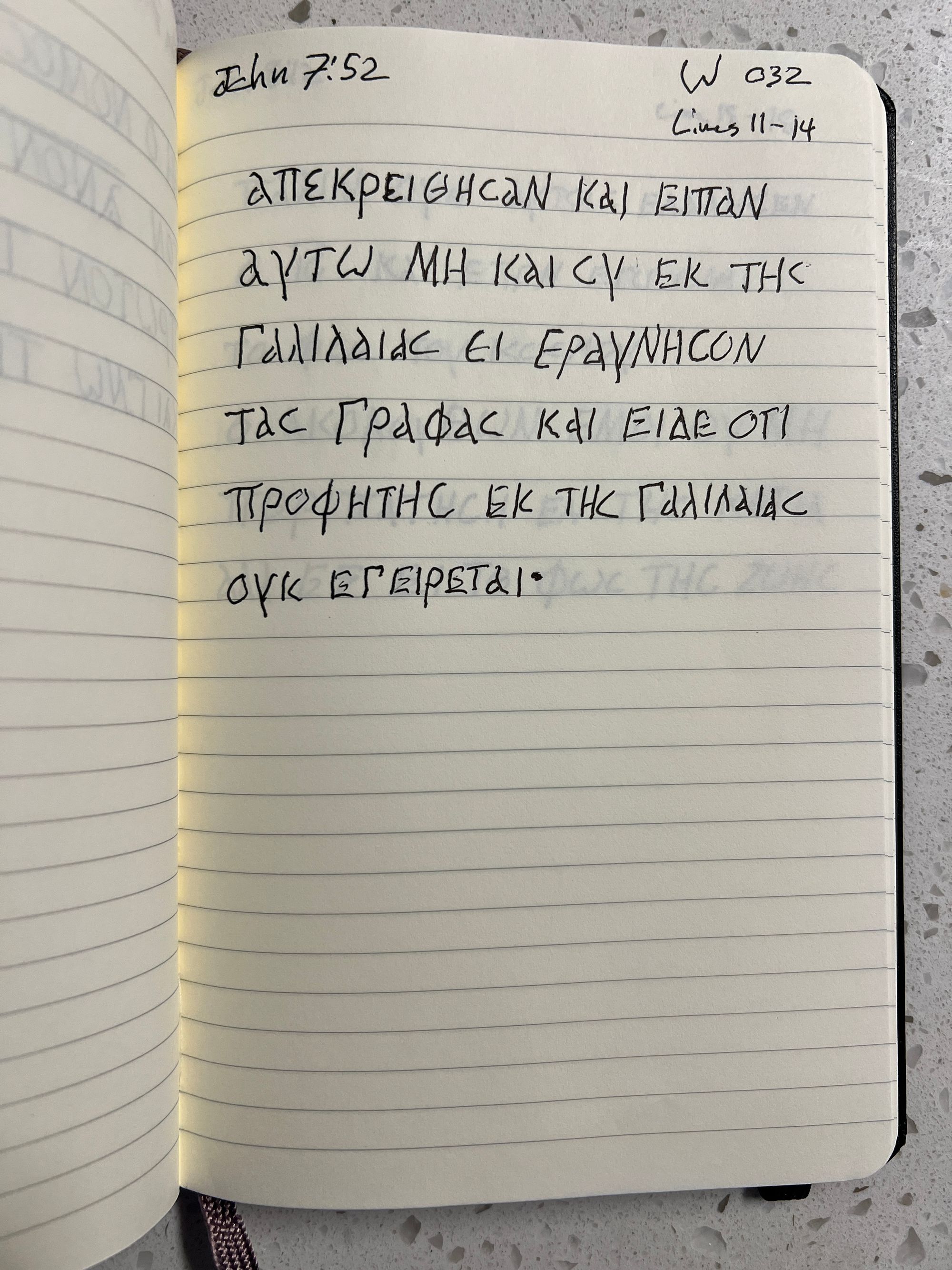 I don't know why my penmanship went from bad to comically bad.
I'm also not sure if ⲀⲠⲈⲔⲢⲈⲒⲐⲎⲤⲀⲚ is an alternate or incorrect spelling (I consider all my spelling to be "alternate").

Since the same word appears at the beginning of line 2, I'm guessing it's a spelling error.

In my copy, it looks like I drew a straight line and then tried to write over it with a Ⲉ, like I was spelling it normally until I caught myself.
The spelling of ⲈⲒⲆⲈ is also an interesting variant.
John 8:12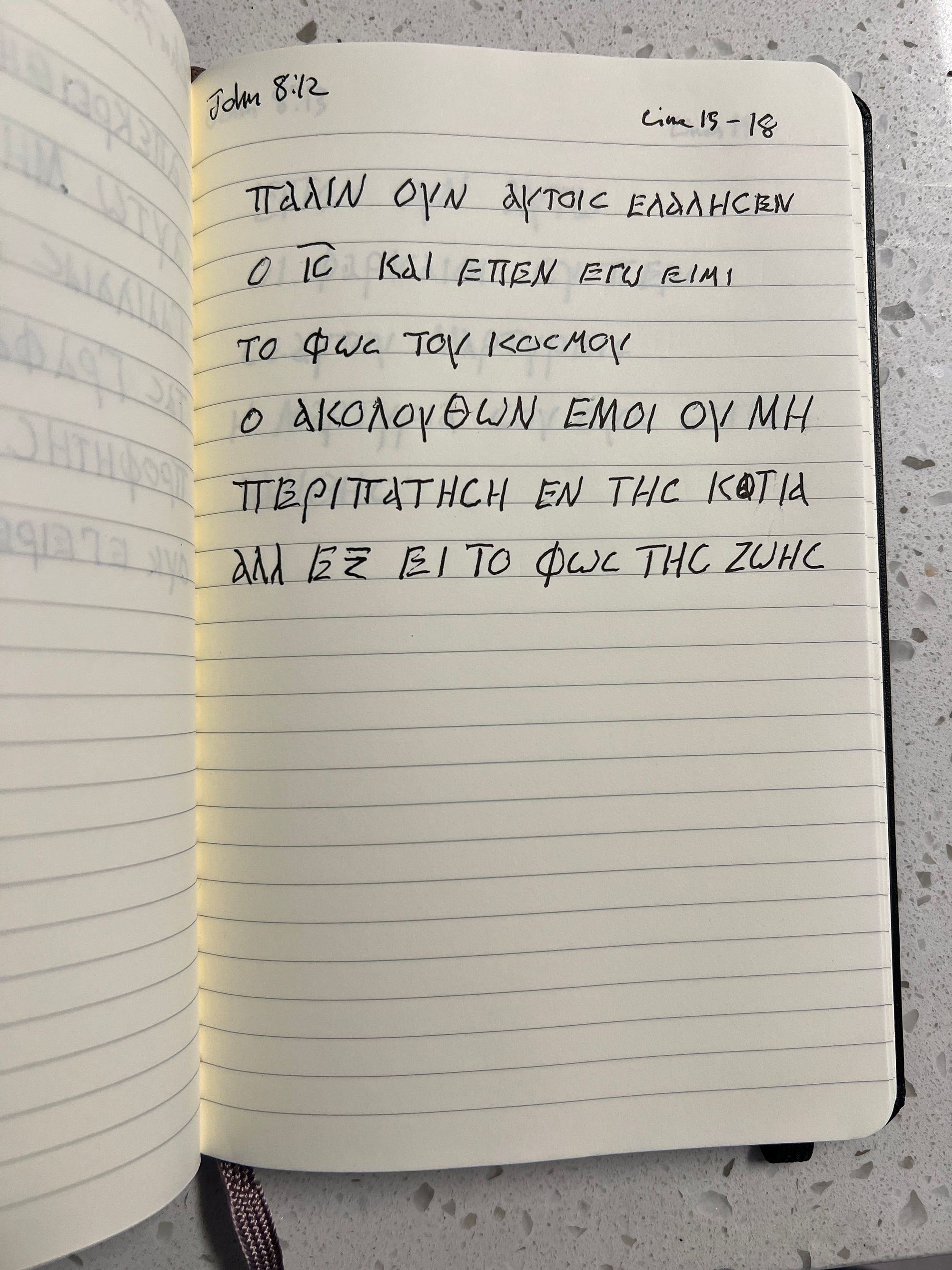 Apparently I can't spot a dative article. And I also can't spell ⲤⲔⲞⲦⲒⲀ. That's on me.
John 8:13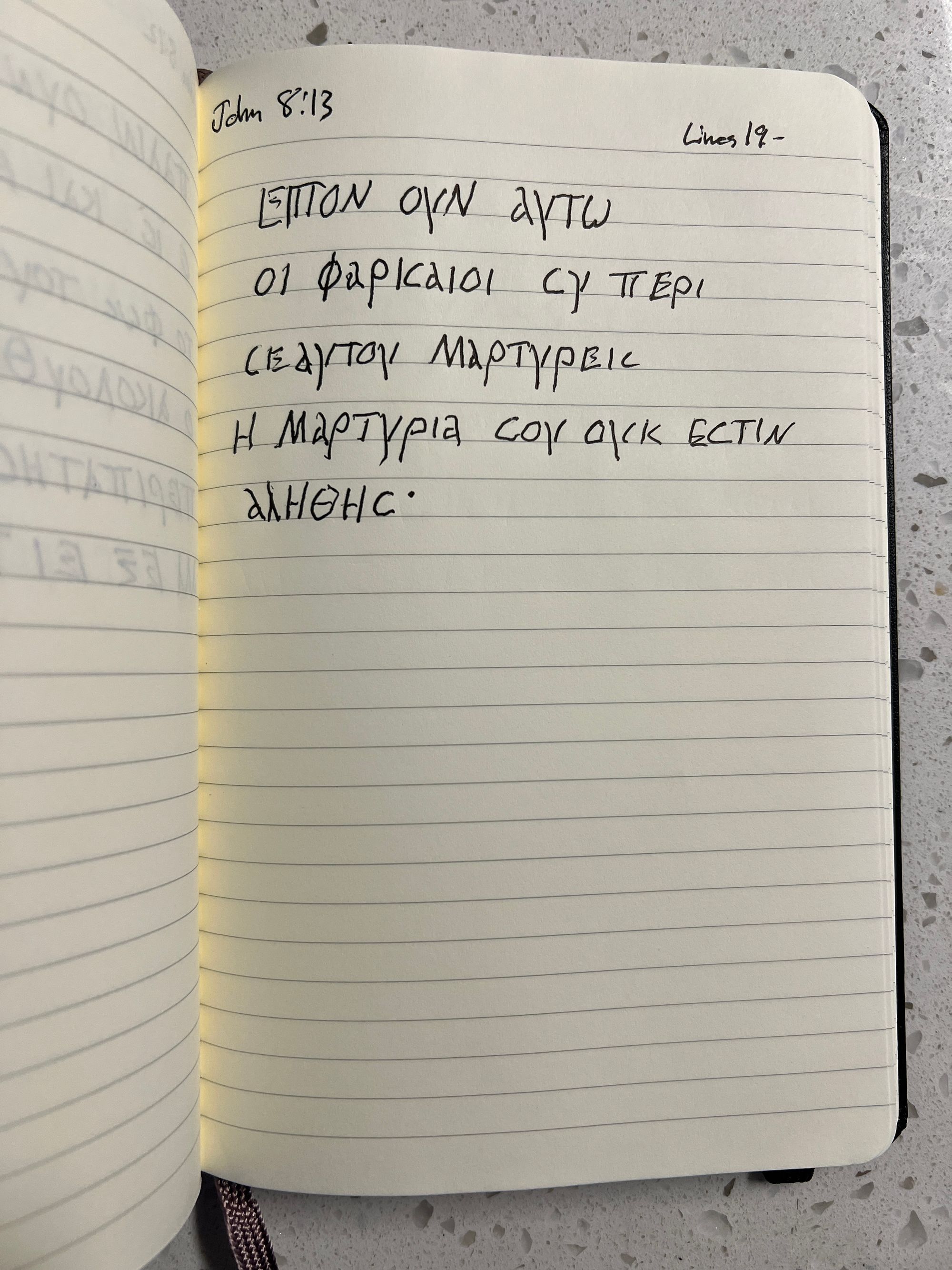 I squeezed that Ⲓ in quite tightly. I do think the slowness of the copy process really crippled my penmanship throughout. It also looks like I forgot to add the final line number.
Reflections
I found a fondness for this Codex. W doesn't get any credit at all. I understand that it doesn't have the celebrity status of A, B, and א, but it's very cool. I mean, check out this sick cover--it even has a chain!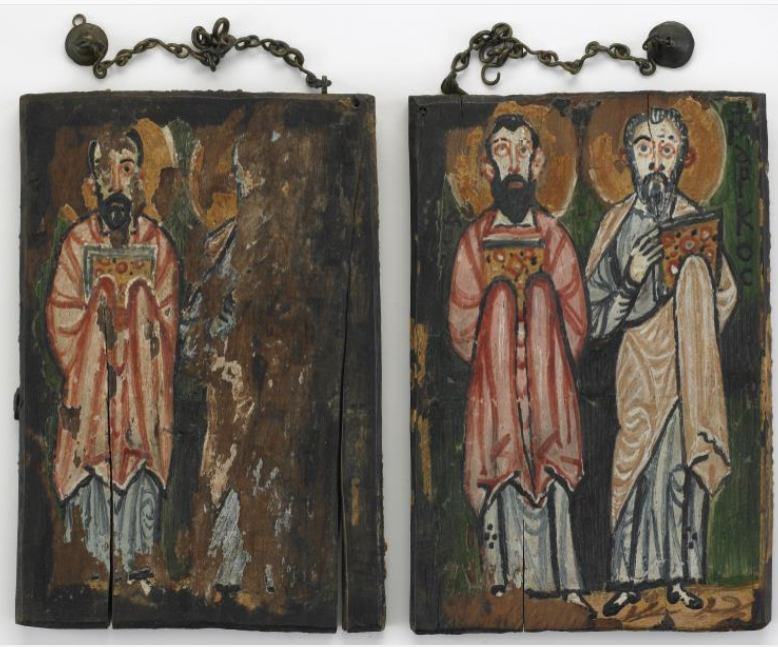 (to see the high-res version, check out the CSNTM image)