Daffy Duck and Ephesians 1 - 3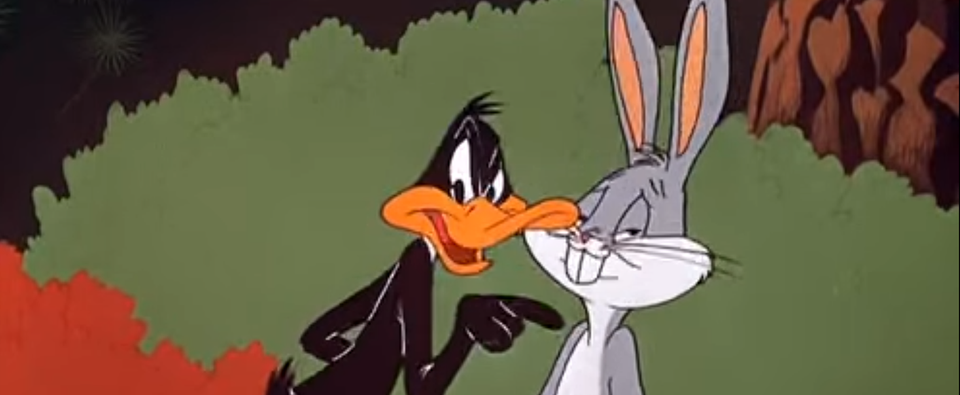 Studying Ephesians last week reminded me of this Loony Tunes scene:
Anyway, if some of you geeks have the time, I could use your help.
I was taking a Bible Study Methods class and the prof decided to have us focus on Ephesians. For my paper, I chose 2:11-22, but ended up spending a lot of time looking at an issue that has bother me for a while in 1:1-2:10.
Ephesians 1:3 reads, "who has blessed us" (NASB, emphasis added). Starting with that verse, the first person plural pronoun will be used eleven times in vv. 3-12 until a shift happens in v. 13. Here, Paul begins speaking in the second person plural, "In Him, you also…you were sealed in him…." This second person address continues through v. 18 –with the key exception of v. 14. Harold Hoehner notes that there is a variant reading of "we" in v. 13, but "you" has "…good manuscript representation and good geographical distribution." (Ephesians p. 234, footnote 2).
Therefore the question is, does Paul intend to emphasize the Jewish/Gentile division in this first chapter-and-a-half? If Paul is building up to his big reveal in 3:6 ("to be specific, that Gentiles are fllow heirs and fellow members of the body, and fellow partakers of the promise in Christ Jesus through the gospel"), then would not it make sense to contrast the Jewish Christian experience with the Gentile Christian one?
After all, if the Jews were chosen "before the foundation of the world to be holy and blameless before God" (v. 4 –which they most certainly were), and given a specific inheritance (v. 14, as was promised to the patriarchs), And if Paul's message to the gentiles is that they can be grafted into that (which it certainly is in Romans 11:17), then isn't it consistent with Paul's writing on the subject that you have Jews who were given a promise and an inheritance and you have gentiles who later join them?
Andrew T. Lincoln thinks not,
The proposed distinction between "we' as Jewish Christians and "you" as Gentile Christians is one that simply does not hold for the rest of the letter. In fact, the returning to the first person plural in v 15 tells overwhelmingly against such a proposal. "Our inheritance" is that of all believers, not least of those who have just been described as having been sealed with the Holy Spirit, and is not just the inheritance of Jewish believers….It is far more likely that the "you" in v 13 marks the point at which the letter's recipients are addressed and explicitly drawn into the blessing offered by believers in general as they are reminded of their reception of the gospel. What has happened is simply that the more general liturgical style has shaded over into address to the readers. The same phenomenon with a change in the person of the pronoun can be found in the blessing in 1 Pet. 1:3-9 (Ephesians p. 38)
I guess this identifies two options:
1. Paul emphasizes the Jewish/Gentile distinction to highlight their integration.
2. Paul assumes their integration and making the distinction between a general Christians statements ("all of us") and a specific exhortation ("You Christians in Ephesus")?
If the latter, why does he say that the "we" are those who "were the first to hope in Christ" (v. 12)? Was it not the Jews who first hoped in their own Messiah and then the Gentiles? Was not Paul's own ministry "to the Jew first and also to the Greek (Romans 1:16; Acts 17:11-14)?
This question speaks to the opening of Chapter 2 which begins similarly to 1:14, "And you were dead in your trespasses and sins." But Paul is quick to be inclusive, "Among them we too all formerly lived in the lusts of our flesh, indulging the desires of the flesh and of the mind, and were by nature children of wrath, even as the rest." (v. 3).
If the distinction wasn't between Jew and Gentile, then what is the you/us distinction in chapter 2? Is it more likely that Paul, a Jew who is going to address Gentile inclusion into Israel beginning in v. 11, is speaking of a you (Ephesians) and an us (all Christians)? Or is it more likely that he speaks of a you (gentiles) and an us (Jews)?
Now granted, the case gets weak for the Jew/Gentile explanatory framework after we get to 2:4-5. Observe the flow of the passage:
And you [Gentiles] were dead in your trespasses and sins, in which you [Gentiles] formerly walked according to the course of this world, according to the prince of the power of the air, of the spirit that is now working in the sons of disobedience. Among them we [Jews] too all formerly lived in the lusts of our flesh, indulging the desires of the flesh and of the mind, and were by nature children of wrath, even as the rest [of humanity]. But God, being rich in mercy, because of His great love with which He loved us [Jews], even when we were dead in our [Jewish] transgressions, made us [Jews] alive together with Christ (2:1-5a)
But then he states "…by grace you [Gentiles] have been saved." From this point on, what seemed like a clear divisions comes off the rails a bit. This is seen if we apply the same understanding of the pronouns through the rest of the paragraph,
and raised us [Jews] up with Him, and seated us [Jews] with Him in the heavenly places in Christ Jesus, so that in the ages to come He might show the surpassing riches of His grace in kindness toward us [Jews] in Christ Jesus. For by grace you [Gentiles] have been saved through faith; and that not of your[Gentile]selves, it is the gift of God; not as a result of works, so that no one may boast. For we [Jews] are His workmanship, created in Christ Jesus for good works, which God prepared beforehand so that we [Jews] would walk in them. (Ephesians 2:6-10)
Yeah, it just doesn't work.
In a sermon, John Piper once advised struggling Bible students that if one does not understanding a text, he or she should just keep reading. And when we did we get to Ephesians 2:11 where there is a very clear Jew/Gentile division.
But that hardly answers settles the matter. It could be direct because that's what he's been saying all along or it could be direct because he hasn't been saying it all along and therefore needed the clarification.
There are some interesting implications either way, but I'm still unsettled on the issue. Any thoughts?