Dave and the Giant [Swing]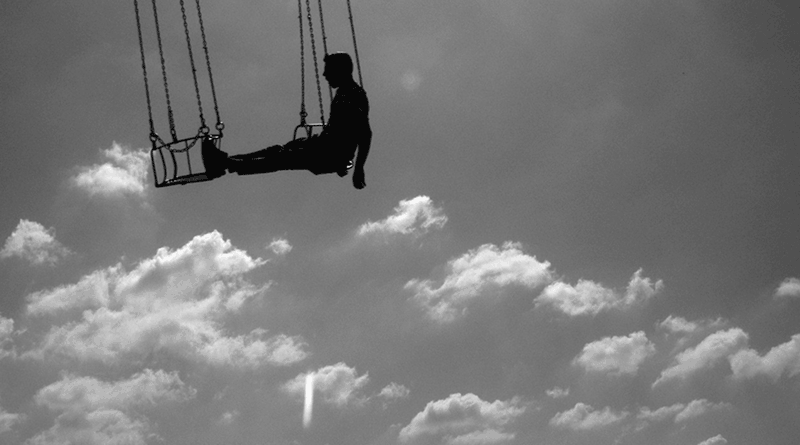 I've never been on a roller coaster. Actually, I've never been to a theme park –much to the measured annoyance of my brother-in-law whose childhood memories consists mostly in hanging out at Disney Land.
But several years ago, I was at my all-college retreat when my dear friend, Meghan, insisted that I join her and take a ride on the camp's Giant Swing. I tried to assure her that I walked by road kill at least once a month and that proved the Grim Reaper doesn't find anything cute. Undeterred, she pleaded and proved that I had slightly more heart than the Grim Reaper.
So there we were, I (with my contented and maybe-too-physical relationship with the ground) and her (with her grandiose vision of flinging our earthen vessels out over a ravine "because it's fun!"), and after an all too brief fifteen minutes we sat, suspended in the area of creation God specifically gave to birds. Having picked up a fellow sojourner (who probably was wearing a red shirt just for effect), she asked "You going to pull the rope?"
Yeah, that sounds like me.
"I'll get it" said Red Shirt.
A yank, a click and my lungs went for a smoke break while my stomach used the vacancy to throw an open house.
Upon reflection, I was struck by the similarities between my giant swing experience and higher education.
The fact of the matter is learning takes time. Lots of time. But college is often a professor trying to give you in a semester what he or she learned in 25 years of professional study. And to almost everyone's amazement, our students don't gain much in a 4-year fling with learning. We mistakenly think the best way to educate is to release the clutch and scream, "Learn! Learn! Learn!" while the students articulately reply, "AAAAAAAAAAHHHHHHHHHHHH!" and dutifully spend $336 on caffeine.
($3 x 7 days x 16 week = $336)
This miscalculation often turns each semester into a 16-week cram session and employs the same level of sophistication that throws pasta against the wall to see if it's cooked. Really, what higher education needs is a Gordan Ramsey figure to march into a faculty meeting screaming, "You stupid, *beep* idiot! Get out!"
But here's the point I'll get around to once I stop getting distracted by pop-culture references: Nobody has an epiphany riding the giant swing.
Okay, well, technically I did, but it wasn't until long afterwards. And isn't that the point?
There is no way to learn the content of a syllabus in the time allotted to the syllabus and everyone seems to accept that. Except students.
So here is my word of advice to all of you starting school this month: this is the beginning of a life-long adventure (#School4Decadezzz). Reach out for as much of it as you can, but don't worry about getting all of it. In fact, you're best off following the strict instructions my mother gave us as we sat down for a meal: "Take what's in front of you and pass left."
There's a political joke there somewhere.
I'll be the first to admit that this bit of counsel will mean more in 8 weeks, but just stick it in the back of your head until you need it during mid-terms.
In the mean time, I raise my paper cup of hot, peach-flavored maté to all those who are boarding the Giant Swing of their choosing: God speed. I'll be here on the ground when you're finished.