A Timeline of American Christian College and Summit Ministries
1925
– Billy James Haggis is adopted from a maturity ward in Texarkana, TX and given the birthdate of August 3.
Laura Luciel Hargis wohad jet black, naturally wavy hair. Married to Jimmie Earsal Hargis, an uncommon "common laborer," she was very lonesome during this particularly long ay . . . all alone in a depressing, below standard rental house on the Rose Hill side of Texarkana, Texas.

"I know what I can do," she thought, "I can go y the street-car to the hospital and baby watch." "Baby watching" was a fulfilling hobby to Lucile. Unable to have one of her own she had to be satisfied just to look at the little babies in the hospital and say little silent prayers to God that some day she might have one of these little children of her own.

Arriving at the maternity ward on that particular day, Dr. James Robinson greeted this familiar visitor with, "Lucille, we have three orphan babies here today that nobody wants. Want one?" She looked through the glass and there she was me in my little crib for the first time, unknown, unloved, unwanted. The entire proceedings took only fifteen minutes. Laura Lucille Hargis walked out with, in her arms, a big baby boy who was known by the hospital staff as "James," named after the doctor.

Her husband, Jimmie, was ever so surprised when he arrived home about 7 P.M. after a hard day's work to be introduced to his new, unexpected son. . . James. Jimmie thought, "My, that's a good name. People will think he was named after me and, after all, he's a big baby boy. I am big, and they will say, "That's Jimmie's boy.'" It was a quick, on-the-spot decision such as this one that enabled my mother to cover more ground in a lifetime than a dozen more timid souls. (Billy James Harigs, My Great Mistake [Green Forrest, AK: New Leaf Press], 1985. p. 7)
1942
– At the age of 18, Billy James Hargis begins his first pastorate at the Christian Church in Sallisaw, OK. He puts on an event and preaches to a crowd of 5,000.
1945
– Billy James Haggis begins his pastorate at First Christian Church in Sapula, OK.
1948
– Billy James Hargis (at the approximate age of 23) is called by A. B. McReynolds
One day in August, 1948, McReynolds thought I was ready for the invitation. [emphasis original]

Taking me alone for a walk on Wolf Mountain Ranch in Eastern Oklahoma, he said, "Billy, God is going to ask some preacher to make a real sacrifice. that preacher is going to have to give up his church, his denominational affiliation, his political affiliation, and he is going to be subjected to all kinds of criticism, but he is going to be used by the Lord. God is going to us him as a prophet to warn His people according to Ezekiel 33. He is going to to go out and tell the message that America needs to hear — The Jesus Christ is the Hope of the world and that America is still God's greatest nation under the Living Son. He can never run for political office; he will be a prophet of God. He will lead a lonely and misunderstanood life, but he will have the satisfaction of always knowing that God is using him."

I listened to all he said, and then said, "I wonder who God is going to use?"

Not knowing for one minute that he had me in mind, McReynolds looked at me and said, "You the one, Billy. I've know it for a long time. God is calling you." (Hargis, 1985, p. 39)
1950
– Billy James Hargis rejects denominations and political office (year approxomate)
I made two promises to McReynolds that I have kept to this day and will keep as long as I live. The first was to resign from my church and never again belong to a denomination. The second was never to run for political office. (Hargis, 1985, p. 44)
– Billy James Hargis resigns his pastorate and begins an anti-communist radio program
1952
– Billy James Hargis buys the Sagmount Resort in the Ozark Mountains (year approximate)
I found an old resort hotel in the Ozark Mountains of Missouri that could be bought for about twnety cents on the dollar of the actual appraisal, and I agreed to buy it for $50,000. i thought every national ministry should havea headquarters, and purchased this old building to be the nation headquarters of Christian Echoes National Ministry. (Ibid.)
They couldn't sustain the property, so they eventually moved to Tulsa. Hargis doesn't explain what happened to the property (Ibid., 47)
– Billy James Hargis founds Christian Crusade
This date is approximate. The story of his packing up his family, buying properties, and launching into a radio ministry happenes between 1950-1952. It appears the Christian Crusade was in full swing by 1952.
– Billy James Hargis II is born (July 28)
1953
– Christian Echoes Ministries International, Inc. files for and is granted nonprofit status. This status would be revoked in 1966.
Fred Schwarts founds The Christian Anti-Communist Crusade (CACC) in Iowa.
1954
1956
– Fred Schwartz "presents evidence" to the House Unamerican Acitivites Committee (You Can Trust. p. 164)
1961
– W. Cleon Skousen publishes The Naked Communist through the Ensign Publishing Company
1962
– David Noebel (age 25) teams up with Billy James Hargis
– Billy James Hargis's "Letter to the Editor" is published in the Saturday Evening Post (June 2, 1962)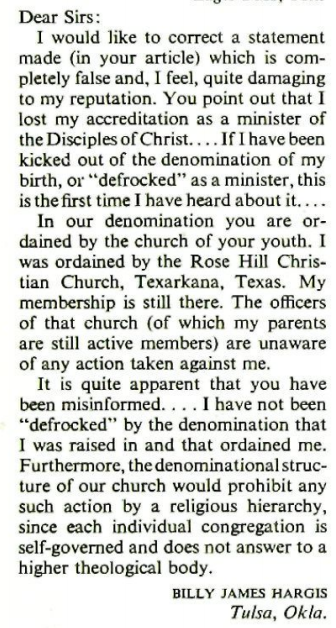 Author Martin was allowed a reply: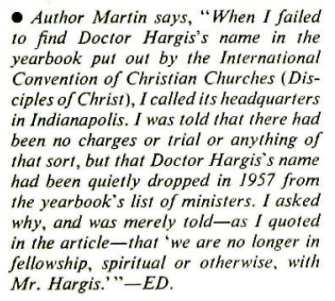 [Hargis:] "The Christian Crusade hotel is now open at the foot of Pikes Peak. Now it's just two for six dollars a day, and children under twelve are free.'
– David Noebel publishes "Religion in Red: Does the United Council of Churches Speak for You?"
1965
-Billy James Hargis publishes "Distortion by Design: The Story of America's Liberal Press"
We are in the fight of our lives and the lives of children. Action taken now by concerned Christians and patriotic Americans is of the utmost importance.

Make sure your homes, churches, record shops and television stations are not playing or selling Young People's Records, Children's Record Guild records of Pram Records. Make sure your schools are not using these communist records. Cybernetic warfare is the ultimate weapon and we can't afford one nerve-jammed child!

Throw your Beatle and rock and roll records in the city dump. We have been unashamed of being labeled a Christian nation; let's make sure four mop-headed anti-Christ beatnicks don't destroy our children's emotional and mental stability and ultimately destroy our nations as Plato warned in his Republic.

It is also inexplicably important that you inform your friends, neighbors, preachers, educators–in short–the whole nation. Circulate copies of this report!

And what better way to reach the "uninformed" who listen to this "beat" music than by the very means they use to spread it–the radio! Support your Christian Crusade Network with your prayers, your encouragement, your work and your gifts. "Magna est veritas et praevalebit."
1966
– Christian Echoes National Ministry has its non-profit status revoked. The revocation was upheld by the Tenth Circuit Court of Appeals, Dec. 18, 1972.
– Billy James Hargis Founds The Church of the Christian Crusade
1968
– The Tenth Circuit rules on CHRISTIAN ECHOES NATIONAL MINISTRY, INC. v. UNITED STATES
The court concludes, "We are asked to decide an important question of law on which no appellate court has yet spoken directly and we are asked to do this on an unsatisfactory and confused record. We decline the invitation. The question is not ripe for decision. An appellate court will not give an advisory opinion on unknown facts" (404 F.2d 1066 [1968]) and rules, "The order to produce is vacated and the case is remanded to the district court for further proceedings" (decided December 30, 1968).
– John H Redekop publishes The American Far Right: A Case Study of Billy James Hargis and Christian Crusade through Eerdmans.
1969
–Time Magazine publishes "Confrontation in Tulsa" (February 7, 1969)
-David Noebel publishes a pamphlet "Beatles: A Study in Drugs, Sex, and Revolution"
– Billy James Hargis founds American Christian College
1971
– Billy James Hargis founds David Livingston Missionary Foundation
1972
– The Christian Crusade has a mailing list of 250,000 with annual donations of $2 million ($12 million in 2018 dollars)
– The U.S. Supreme Court vacates and remands UNITED STATES v. CHRISTIAN ECHOES NATIONAL MINISTRY, INC.
The judgment is vacated and the case remanded to the District Court for the entry of a fresh decree, so that the appellant may appeal to the United States Court of Appeals for the Tenth Circuit (404 U.S. 561 [1972])(decided January 24, 1972).
– Christian Echoes National Ministry loses its tax exemption appeal to the Tenth Circuit Court of Appeals Dec. 18, 1972
The facts developed on audit were materially different from the facts disclosed in the taxpayer's original exemption application. It did not refer specifically to Christian Echoes' substantial involvement in activities aimed at influencing legislation. Accordingly, the tax-exempt revocation was properly applied retroactively" (470 F.2d 849 [1972])(Decided December 18, 1972; Rehearing Denied January 17, 1973).
1973
– Time Magazine publishes "Religion. Tidings" (Monday, January 22, 1973)
– Hargis founds "Americans Against Abortion" with David Noebel at the helm
– David Noebel publishes "The Slaughter of the Innocent"
1974
– David Noebel publishes "Marxist Minstrels"
– Billy James Hargis publishes "Why I Fight for a Christian America"
1976
It was at the college that [American Christian College] Hargis' sexual troubles surfaced in October 1974, when the first of the five students confessed to then Vice President David Noebel. Noebel's account: Not long before, Hargis had conducted a wedding for the student; on the honeymoon, the groom and his bride discovered that both of them had slept with Hargis. Later, Noebel says, three more male students told him of having had sexual relations with Hargis over a period of three years. They said the trysts had taken place in Hargis' office, at his farm in the Ozarks, even during his tours with the college choir, the "All-American Kids." Noebel was told that Hargis justified his homosexual acts by citing the Old Testament friendship between David and Jonathan and threatened to blacklist the youths for life if they talked.

Noebel, a Hargis aide for twelve years, described how he felt when he first heard the students' accounts: "For two weeks, I couldn't sleep. I knew we had to get Hargis off campus or we were going to lose the whole school." Finally, on Oct. 25, 1974, Noebel and two other college officials confronted Hargis and two of his lawyers. According to two of those present, Hargis, who has a wife, three daughters and a son, admitted his guilt and blamed his behavior on "genes and chromosomes."

Two days later, Hargis preached a farewell sermon to his Tulsa congregation, then turned the presidency of the college over to Noebel. But Hargis stayed around the campus for weeks before he officially severed ties with the Christian Crusade and allied groups. His resignation came only after the Hargis organizations had agreed to cash in their $72,000 life insurance policy on Hargis and give him the money, and had guaranteed him a $24,000 annual stipend. Meanwhile, Hargis announced that he was retiring to his Ozarks farm because of ill health.
On March 27, 2008, David Noebel and other staff members gave interviews interview to the Colorado Springs Independent which published the following exchange
Plans for the college fell apart after five students, four of them men, came forward alleging they had sex with Hargis. The story made national news in 1976, and Noebel says he hates to think about it, much less speak of it.

"Read it in Time magazine," he says.

(In a recorded lecture, Noebel suggests the gay-sex scandal went far beyond Hargis' actions. He declines to elaborate in an e-mail: "That history will never be written.")
1977
– James Dobson airs his first Focus on the Family broadcast (March 26)
– American Christian College closes
-Billy James Hargis appears for a full hour enterview with Tom Snyder on Tomorrow with Tom Snyder (December 27, 1977)
1982
-Jan Markell launches Olive Tree Ministries
1983
– Jeff Myers attends The Summit
1984
– Billy James Hargis publishes "The Federal Reserve Scandal!"
1985
– Billy James Hargis publishes "My Greatest Mistake"
Finishing my last rally in Cebu City, I took a comercial plane with my team, including Dr. Joseph, and flew to Manila. Ariving at the Manila airport, I could not believe my eyes because there in the baggage room, where you pick up your baggage, sat my business manger.

To say the least, I was shocked. He seemed friendly and cheerful enough but, after a few minutes of good news about the welfare of my family, he took me by the arm and led me away over to the corner in the baggage claim area to say, "Doc, I do have some bad news. You know I tried to warn you for years about some of the college staff. They want you out of the college as president You have been accursed of immorality. You better get home quickly and clean up the mess."

I immediately flew home. Upon arrival, it was apparent that I couldn't "clean up the mess." There were people that apparently wanted the college more than I did. I was tired from the world tour. I had too much stress. I knew that I had not committed adultery with a student. Furthermore, I was not a homosexual as some were saying. Indeed, it was a mess. I was told by advisers, like my doctor, to quit now so I could avoid a heart attack and live. Even my hyper-Calvinist opponents said if I would resign as college president, I could still be active in the school as chairman of the board.

Maybe if I had it all to do over, I would have bowed my neck and cleaned house. But, I really felt I had lost the loyalty of many students and if I did stay, the college would be destroyed by doctrinal and personality splits. I felt by resigning as head of the college, I would save the college. I was wrong on that point too. (p. 98)
1987
– Ryan Dobson Attends the Summit
1989
– David Noebel goes on Focus the Family radio program with Dr. James Dobson
On March 27, 2008, David Noebel and other staff members gave interviews interview to the Colorado Springs Independent which published the following exchange
Summit struggled after the scandal, Noebel says, but finally got a boost of support in 1989 after Focus on the Family's James Dobson sent his son through the program and then endorsed it.

"It just exploded after that," Noebel says.
In an interview with James Dobson (the date on the audio file is May 28, 2010, which would make it one of the first to air on Dobson's new show Family Talk, which launched May 2010), David Noebel described pre-1989 situation as "struggling":
And you [Dobson] took a chance on Summit Ministries many, many years ago because in 1989, we were struggling and you said, 'lets do it' and we went on the air, I remember –we went on for two days, in fact, and we had so much response, Dr. Dobson.
1989 – 1995
1991
– David Noebel authors (and Jeff Baldwin writes) Understanding the Times published by Summit Press
– Chuck Colson launches the Breakpoint broadcast.
1992
– Kevin Bywater joines Summit Ministries' staff
1994
– Harvest House Publishers begins publishing Understanding the Times, including an added appendix addressing New Age
-Harvest House Publishers releases an abridged version of Understanding the Times, including an added appendix addressing New Age
1995
– Jeff Myers becomes chariman of the Board of Directors
– Summit adopts the mission statement:
"Summit Ministries equips tomorrow's servant leaders to understand worldview analysis and champion Christian faith, inspiring each one to love God with his heart, soul, mind and strength."
1996
– Worldview Academy founded by Bill Jack, Jeff Baldwin, Randy Sims, and Todd Kent.
Their fist camp hosted 40 students in Tehuacana, TX.
1997
– Jeff Myers earns his PhD from University of Denver and is appointed to faculty at Bryan College (until 2011)
1998
– Fred Schwartz retires from the Christian Anti-Communist Crucade and David Noebel takes over the publication of The Schwartz Report
– Michele Bachmann Attends a Lecture by David Noebel
The exact year of this lecture is still unknown. Bachmann's recounting is a few years after college, but a New Yorker article claims it was the late 90s.
2000
– Jan Markell launches the "Under Standing the Times" radio program to the Minneapolis/St. Paul area
2001
-Tim LaHey and David Noebel co-author "Mind Siege: The Battles for Truth in the New Millennium through Word Publishing
-Harvest House Publishers rereleases Understanding the Times (abridged) as The Battle for Truth: Defending the Christian Worldview in the Marketplace of Ideas
This was actually a rebinding of the ACSI abridgment intended to coincide with the release of the LaHay/Noebel hardback.
2002
-Jan Markell launches the Understanding the Times Conference
2003
– Donald Miller publishes Blue Like Jazz and recounts his Summit experience
I was a fundamentalist Christiance once. It lasted a summer. i was in that same phase of trying to discipline myself to "behave" as if I loved light, and not "behave" as if I loved Darkness. i used to get really ticked about preachers who talked too much about grace, because they tempted me to not be disciplined. I figured what people needed was a kick in the butt, and if I failed at godliness it was becase those around me weren't trying hard enough. I blieved if word got out about grace, the whole church was going to turn into a brothel. I was a real jerk, I think.

I hit my self-righteous apex while working at a fundamentalist Christian camp in Colorado. I was living n a cabin in the Rockies with about seven other guys, and the whole lot of us fell into this militant Christianity that says you should live like a Navy SEAL for Jesus. I am absolutely ashmed to admit this now.

We would fat all the time, pray together twice each day, memorize Scripture, pat each on the back and that sto of rhing. Summer was coming to a close, and we were getting pretty proud of ourselves because we had read a great deal of Scripture and hadn't gotten anybody pregnant. We were concnered, however, about what to do after we split up, thinking that if we didn't have each other we'd fall apart and start selling drugs to children. one of us, and it was probably me, decided to create a ontract that listed things we wouldn't do for an entire yea,=r, like watch television or smoke pipes or listen to music. It was the constitution of our self-righteous individualism. The contract stated we would read the Bible every day, pray, and memorize certain long passages of Sctipure. We sat around one night with pen and paper and offered sacrifices, each of us trying to outman the other with bigger and brighter lambs for the slaughter. We were the direct opposite of a frat house; instead of funneling our testosterone into binge drinking and rowdy parties, we were manning up to Jesus, bumping Him chest to chest as it were, like Bible salesmen on steroids.
In 2007, Mike Adams would call this book "truly outstanding"  ("No Perfect People Allowed"), but in 2010 –after he joined Summit's faculty– published an article titled "White Like Lies" in which he claimed
The only problem with this story is that it isn't true. Oddly, Don came back to visit that Christian camp just a few years ago. When he did, he was confronted with his very public and untruthful account his time at Summit Ministries.

In response, Don just said it wasn't a big deal. He fabricated the story just to make a point. He was confronted privately but was unrepentant, which was not too surprising. Remember that Don thinks Christianity is not about rules. It's about a relationship with God.

So I guess Don can bear false witness, in violation of the Ninth Commandment, if he thinks it will bring himself and others closer to God.

–
-Ryan Dobson publishes his first book Be Intolerant: Because Some Things Are Just Stupid through Multnomah Publishing and dedicates it to David Noebel
This book is dedicated to David Noble [sic].

Through his passion for youth he opened my eyes to

Absolute Truth
2004
– Billy James Hargis passes away
– Jan Markell's "Understanding the Times" radio program is syndicated nationally
2006
– The Summit Journal grows to "over 40,000" subscribers (The Journal, February 2006)
An editorial note states, "Although there is no charge for this publication, it costs Summit Ministries approximately $20 per year per subscription."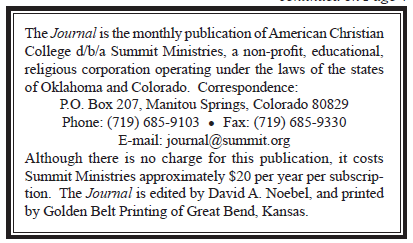 All else being equal, this could mean the cost of The Journal was $800,000 annually,
– Jeff Myers founds Passing the Baton International
– Jeremiah Callihan and David Eaton launch Axis
– Michele Bachmann wins election to the U.S. House of Representitives
– Eric Smith launches Summit Semester, likening it to L'Abri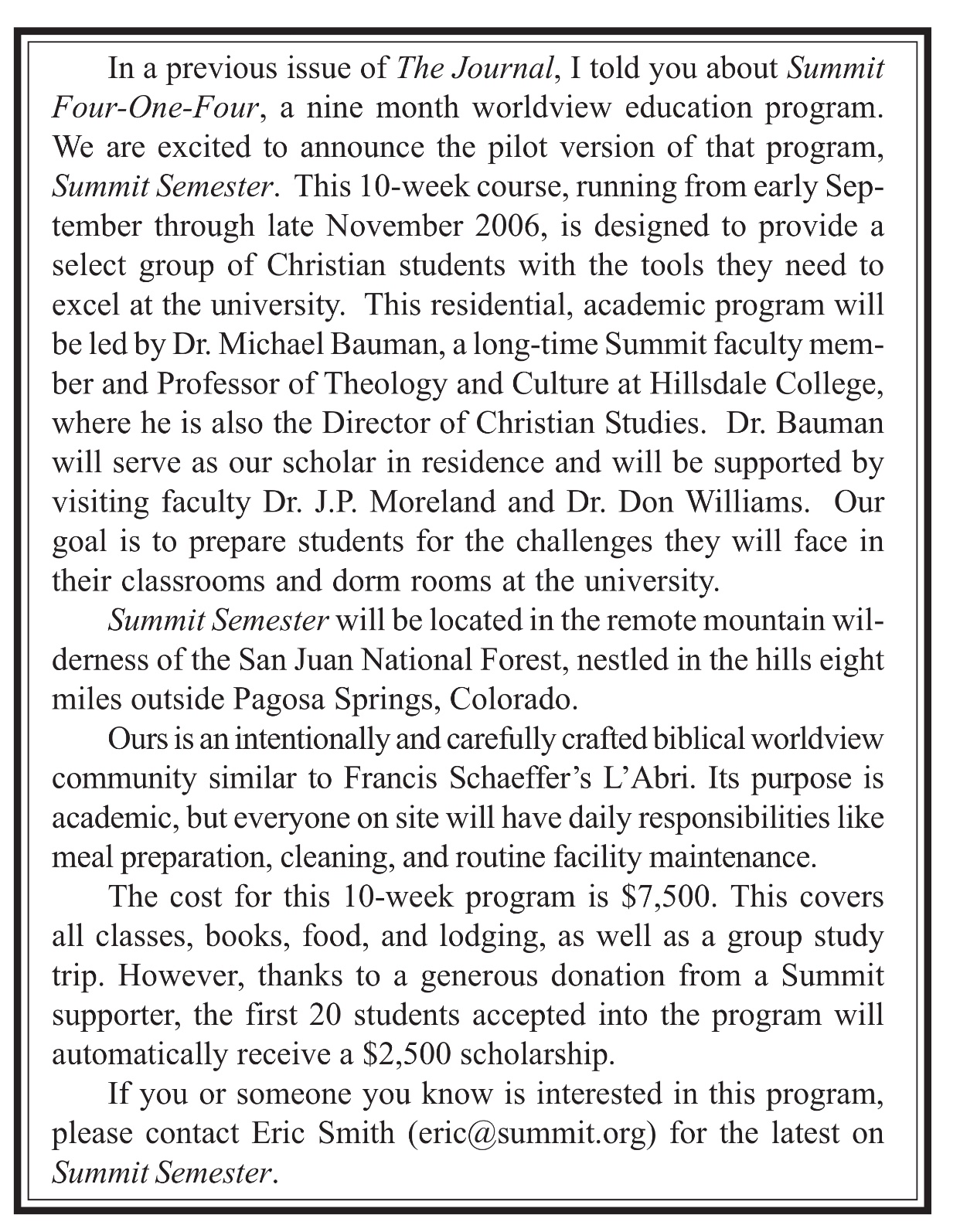 2007
– Jeremiah Callihan and David Eaton's Axis speak at their first school
– David Noeble writes an article at summit.org titled "Howse Hassels the Humanists, concluding,
Howse is definitely right in his analysis of Secular Humanism and its attempt to eradicate religion from the public square and Flynn is definitely treading water. Flynn's own Free Inquiry columnist, Richard Dawkins, more than proves this point! Dawkins, who parades himself about the globe as Mr. Science and Mr. Objectivity, has announced his intension to eradicate all religion (especially Christianity). If this is the case will Flynn and Dawkins join us in at least eradicating the religion of Humanist Manifesto I from the public school curriculum? Isn't its presence a violation of the church/state doctrine? Will they help us eradicate the influence of John Dewey and his A Common Faith from the public school system? The answer surely must be "blowin-in-the-wind" somewhere.
-Francis Beckwith converts (reverts) to Catholicism and steps down as President of the Evangelical Theological Society
2008
– Lehman Brothers collapses and sparks the 2008 financial crisis (September 15, 2008)
– Kevin Bywater launches Summit Oxford
2009
– Rick Santelli's goes on a rant during a live CNBC broadcast (February 19, 2009)
Addressing the Obama Administration's plan to bailout the housing crisis, he exclaims, "We're thinking of having a Chicago Tea Party in July, all you capitalists who want to show up to Lake Michigan, I'm going to start organizing." This is roundly identified as the beginning of the Tea Party Movement.
– Chuck Colson launches the Centurion Program
2010
– David Noebel releases a second revised edition of Schwart's You Can Trust the Communists (To Be Communists) under the title, You Can Still Trust the Communists: To be Communists (Socialists, Statists, and Progressives Too)
– Curtis Bowers releases documentary Agenda: Grinding America Down
– The Summit Board of Directors (Chaired by Jeff Myers) approves a 5-year strategic plan
Among the many changes, the approved plan changed Summit's 1995 mission statment from, "Summit Ministries equips tomorrow's servant leaders to understand worldview analysis and champion Christian faith, inspiring each one to love God with his heart, soul, mind and strength." to "The Summit cultivates rising generations to resolutely champion a Biblical worldview".
– Jeff Myers (with Paul and Paige Gutacker) publishes Cultivate: Forming the Emerging Generation Through Life-on-life Mentoring through Passing the Baton International
– Eric Metaxas publishes Bonhoeffer: Pastor, Martyr, Prophet, Spy
2011
– Michele Bachmann gives the "Tea Party" response to President Obama's State of the Union Address
– Jeff Myers makes his first appearance on FoxNews.com Live (June 21, 2011), speaking of Anthony Weiner, "He has the Peter Pan syndrome: he's a narcissist, a little boy who has never grown up."
At some point, Summit entered into a talent management relationship with Hamilton Strategies, a public relations firm founded in 2005 who also represent conservative figures like American Family Asociation, Alex McFarland, Fellowship of Christian Athletes, Southern Evangelical Seminary etc. They're the ones who booked Jeff  Myers and John Stonestreet on the FoxNews.com Live appearances.
– Michele Bachmann formally announces he primary campaign for presidential nomination (June 27, 2011)
– Jeff Myers makes his second (and final?) appearance on FoxNews.com Live (June 30, 2011), discussing a Wall Street Journal article, "Obama stops just short of endorising gay marriage"
Jeff Myers says, "I hate to say but the president has become kind of a reverse alchemist: everything he touches turns to lead."This is the only other clip Hamilton Stratigies distributes of Jeff Myers on FoxNews.com Live
– John Stonestreet appears on FoxNews.com Live (July 27th?) discussing atheists suing the 9/11 Memorial
This also appears to be John Stonestreet's last appearance on FoxNews.com Live, at least as arranged by Hamilton Strategies
-The New Yorker publishes a profile on Michele Bachmann that highlights her relationship to Summit Ministries and Noebel (including possible service on the board of directors)
The article is titled "Leap of Faith: The making of a Republican front-runner" by Ryan Lizza (August 15, 2011).
Around this time, Bachmann became interested in the writings of David A. Noebel, the founder and director of Summit Ministries, an educational organization founded to reverse the harmful effects of what it calls "our current post-Christian culture." He was a longtime John Birch Society member, whose pamphlets include "The Homosexual Revolution: End Time Abomination," and "Communism, Hypnotism, and the Beatles," in which Noebel argued that the band was being used by Communists to infiltrate the minds of young Americans. Bachmann once gave a speech touting her relationship with Noebel's organization. "I went on to serve on the board of directors with Summit Ministries," she said, adding that Summit's message is "wonderful and worthwhile." She has also recommended to supporters Noebel's "Understanding the Times," a book that is popular in the Christian homeschooling movement. In it, he explains that the "Secular Humanist worldview" is one of America's greatest threats. Bachmann's analysis of education law similarly veered off into conspiratorial warnings. "Government now will be controlling people," she said during one lecture on education, at a church in Minnesota. "What has history shown us about planned, state economies in the last one hundred years? Think Fascism, think Communism, think socialism. Think, the state-planned economies, totalitarianism. Think Cuba! Do you want Cuba's economy or do you want the United States of America's economy?"
– "Occupy Wall Street" Begins in Zucatti Park (September 17, 2011)
-Michele Bauchmann appears on the cover of Newsweek With the headline, "The Queen of Rage"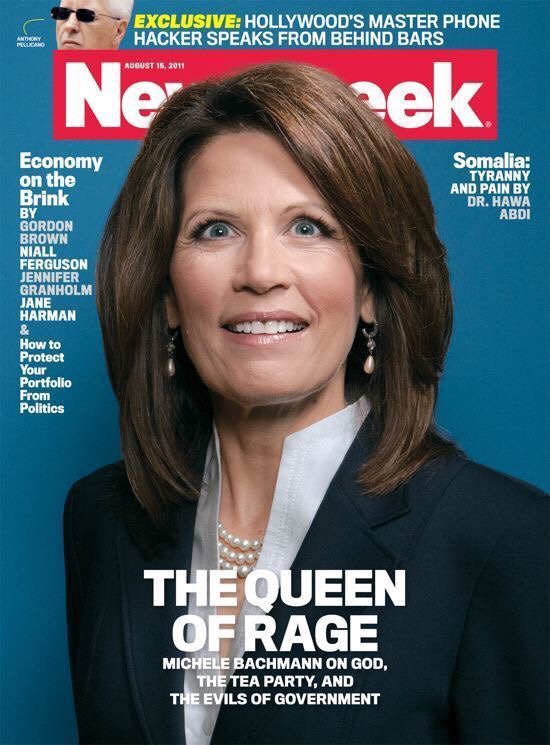 – David Noebel retires from The Summit
– Jeff Myers becomes President of Summit Ministries (October 11)
– Jeff Myers prints a pre-pub church edition of Cultivate called Cultivate: Reclaiming the Church's lost Generation through Life-on-Life Mentoring with Paul and Paige Gutacker
The copyright page states it's published through Passing the Baton International, Inc, described as "A Division of American Christian College, Inc., dba Summit Ministires" It never makes it to full publication.
– James C. Bowers publishes The Naked Truth: The Naked Communist Revisited through The Christian Anti-Communist Crusade with a forward by David Noebel
The following appears in the March, 2012 issue of The Journal: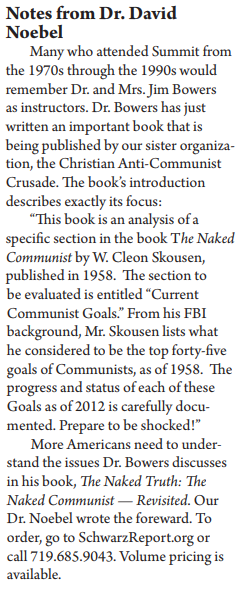 2012
– Eric Metaxas speaks at the National Prayer Breakfast (February 2, 2012)
The conclusion of the document claims Summit sits in history with place like Wittenberg, Nassau Hall, Finkenwalde, and L'Abri and explains, "we have developed a three-phase strategy for using Summit as a launching pad for massive, sustainable cultural influence from a biblical worldview" (pp 26-27).
– John Stonestreet leaves the position of Executive Director  to become President of the Colson Center
– Jeff Myers announces the revision and expansion project for the Understanding the Times curriculum
He explains he is the lead writer who will structure the new book into a four volume series.
He also claims, "with around 500,000 copies in print it is far and away the best-selling worldview text of all time". This seems unlikely. The volume had been in print for 21 years, so the average yearly print run would have to average 23,800 units per year. In comparison, InterVaristy Press claims that James Sire's The Universe Next Door (which first published in 1976), has sold 350,000, or an average of 8,333 per year.
At present, Understanding the Times ranks 59,099th on Amazon.com while The Universe Next Door ranks 6,517th. Sire's book is #1 in the "Comparative Religion" category while Myer's book ranks #125.
Many reasons could be forwarded to explain the figure discrepancies, but it seems unlikely that a self-published, hardback textbook would outsell a paperback volume almost 2:1 in half the time and suddenly plummet in sales once it was rewritten and published by a Christian curriculum publisher.
That said, in a Q&A session with students at The University of Central Oklahoma, Jeff Myers said of the updated Understanding the Times and new Understanding the Faith, "between the two there have been 28,000 copies sold already. The average Christian book sells 2,00 copies. So somewhere, there are 25,000 more nerds than I realized." The window for these sales seems to be May 2015 through February 2017 and in context, seems to be prior to distribution through retail channels.
During the Q&A section, President Bill Armstrong tells the group,
What I wanted to say about David Noebel's book is this: it's a wonderful book. It is a terrific book. And I will be glad to send to each of you –who asks me– a copy of this book. But with this proviso: Don't ask for it unless you will spend some time looking at it. It can be read cover-to-cover; it can be used as a reference book. It's a terrific book. But I don't want you to ask for it unless you're going to make some use of it because I don't know what it's going to cost me –twenty or thirty bucks a book, I guess? So I want to be careful about that. My e-mail address, as you all know is w Armstrong at ccu dot edu. Send me a note and as soon as I can get a copy for you I will do that. It is well worth reading, using as a reference book, and having on your shelf.
– Summit release David Noebel commemorative video
The video includes tributes from James Dobson, Ryan Dobson, Del Tackett, Frank Turek, J.P. Moreland, Norman Geisler, Francis Beckwith, Tony Perkins, and Alan Sears.
The narration also states James Dobson, Dan and Bubba Cathy (of Chic-fil-a fame) and Michele Bachman "have trusted Summit to train their own children".
2013
Summit launches Engage conferences in assocation with WORLD magazine
Events were scheduled for Atlanta, GA (Apr. 13); Minneapolis, MN (May 18); Dallas, TX (Oct. 5); San Diego, CA (Nov. 16).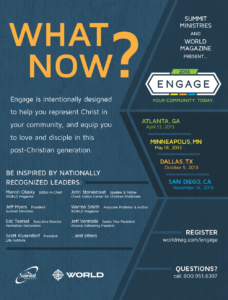 – Billy James Hargis II passes away
– Summit rebrands the Adult Conference and John Stonestreet moderates Stanton/Rauch debate the opening night
Filmed at Summit's 2013 Adult Conference on February 24, 2013, at the Glen Eyrie castle.
2014
– Michele Bachman debates Bernie Sanders on CNN
– Bonhoeffer: Pastor, Martyr, Prophet, Spy rises to #4 on the New York Times Best Seller list of nonfiction, combined print and digital sales
– Jeff Myers and Summit Ministries publish Grow Together: The Forgotten Story of How Uniting the Generations Unleashes Epic Spiritual Potential, a book, documentary DVD, and small group curriculum kit.
– Brannon Howse breaks from Summit Ministries over faculty choices
Now, again, this is very troubling: when worldview groups who are supposed to contend for the faith, expose the philosophies of the day, have supposedly listed on their website (summit.org/conferences/student/Colorado/faculty) and I see listed two Catholics, a guy that I've seen sitting with Rick Joyner, and then J.P. Moreland  who has said that Christians are over committed to the Bible!

And you wonder why we have to hold the Contend 2015 conference for the second year in a row? Because I don't know, quite frankly, too many worldview/apologetic conferences you can send your child to anymore. I certainly don't recommend summit ministries any longer after 20 years of promoting it. Because of what I think is a shift.

Not only do some of these conferences cost a thousand dollars or fourteen hundred dollars for two weeks and I understand why that –they're paying their lodging, they've got staff, they've got meals to feed them, they have vans that take them around to different things they do, they have insurance. I understand they need to charge; I'm not bemoaning them for charging. I just know that some of these worldview camps are very expensive and some families can't afford thee fourteen-hundred dollars a week or a thousand dollars a week, depending on which group you're talking about. So we thought why not hold a free event for young people, highschool-college students, it's free, that's just, you know, basically Thursday night, all day Friday, half day Saturday, because a lot of them can't take a week or two off this summer because they have jobs, they have to save up money for school or car insurance.

And so, not only do we have the economic aspect of wanting to hold a free Contend conference, we also have the theological/doctrinal idea of, do you really want your kids sitting and learning worldview from someone like J.P. Moreland, or Jay Richards, or Francis Beckwith? I don't think you do!"
All of the faculty to whom Howse objected were on faculty at the time Summit was promoting the Worldview Weekend.
– Summit sends an end-of-year report stating that 1,706 students attend their student conferences.
2015
– Summit Launches Arise event, hosting Eric Metaxas, Lila Rose, John Stonestreet and Jeff Myers
– Michele Bauchmann is a guest on Jan Markell's Understanding the Times radio show and explains how the Obama Administration's foreign policy is fulfilling end times Prophecy.
– At the White House Correspondence Dinner, President Obama pokes fun of Bauchmann's prediction saying, "Now that's a legacy!"
– Eric Metaxas launches "The Eric Metaxas Show" radio program on the Salem Radio Network
– Donald Trump announces his candidacy for president (June 16, 2015)
– Jeff Myers explains Summit's goal is to reach "5,000 students per year."
In an interview with Jack Hibbs on Faith and Public Policy's Real Life, Jeff Myers explains Summit Ministres student program reaches almost 2,000 student, but the strategy is reaching 5,000 students per year.
MYERS: We want five thousand –right now we have about two thousand young people a year. So it's gone way up pretty rapidly, but we want five thousand young people a year. Five thousand young people –do you realize, if you take the political leaders in the United States of America in every state in every level from dog catcher to President, it's only five hundred thousand people?

HIBBS: I didn't realize that.

MYERS: Did you know that? And out of the five hundred thousand people, only ten percent of them do all the work. Fifty thousand people run the entire country. If we train 5,000 young people a year —

HIBBS: Wow.

MYERS: — then in ten years, they could move in —

HIBBS: I love that.

MYERS: –not only

HIBBS: I love that.

MYERS: –staying strong while everyone else is falling apart, then they can begin to move into every area of society. And bring a godly influence to bear. The church's job, as Dietrich Bonhoffer said, is to help the state be the state. Right? That's the vision of politics. But it's true in economics and in justice and in all these different areas of life, a biblical view point brought to bear would bring flourishing to our nation.

HIBBS: Awesome.

MYERS: And that's really the vision.
-Summit's December issue of The Journal states the  student conference hosts 1,722 students.
This is the last monthly issue to be issued in print. Two more special print editions ("Spring" and "Summer") appear in 2016.
2016
– Jeff Myers explains Summit Ministries' strategy to to grow the program to 5,000 students
In the Spring 2016 issue of The Journal, he writes,
The number of influencers in a culture is usually only a tiny fraction of the total population. Take government, for example. There are more than 300 million people in America, but only 535 members of congress and just over 7,000 state legislators. If we add in the nearly 20,000 municipal governments and assume that each has about 10 leaders, and 17,000 school districts with 10 leaders apiece, the total number of elected officials is still less than 400,000. That's just over one-tenth of 1 percent of the total population, and yet this tiny group
controls the political agenda for everyone else.

Summit's strategy, then, is to identify the key influencers and train them. If there are 3.2 million high school graduates in any given year, and we train, track, and transition 320 of them, and they're the right 320, we are at the one-in ten-thousand mark. If we can train, track, and transition 5,000 students into positions of significant influence every year, we're substantially above the number needed to reach the tipping point. (p. 3)
– Michele Bachman is featured on the Summit Forum (March 11, 2016)
-Michele Bauchmann speaks at Jan Markell's Understanding the Times Conference (April)
– Eric Smith leaves Summit to co-pastor a Christian Missionary Alliance church plant in Colorado Springs (Front Range Alliance Church: East Campus)
– Eric Metaxas publishes If You Can Keep It: The Forgotten Promise of American Liberty through Penguin Press (June 10, 2016)
– Jeff Myers e-mails the Summit list (November 11, 2016) inviting
The Trump campaign has been unusually open to the kind of people trained at Summit over the last 55 years. At one recent meeting called by the Trump campaign to seek advice, nearly every person around the table had some affiliation with Summit. Now, the call has gone out for people to fill political appointments in the Trump administration.
2017
– Kevin Bywater announces a partnership between the Oxford Study Centre and Ratio Christi.
The number of episodes totaled 91.
– Jeff Myers denounces the Alt-Right
Citing the events in Charlottesville, he concludes,
In our own time, we have no excuse. Not to speak is to speak.

So, I will never again think of these white nationalist groups as relatively harmless because they are so ridiculous. I repent of failing to call them out as they terrify minority and Immigrant communities. I will work vigorously to defend the marginalized and helpless.

America is not, nor should it ever be, what the alt-right says it is.

If I have not made that crystal clear in my writing and speaking, that changes now.
– Summit Ministries and Barna Research Group release a study of Christians and their worldview beliefs.
This research was commissioned by Summit Ministries, a worldview-apologetic outreach in Colorado. For more information about their newest book, The Secret Battle of Ideas About God, go to summit.org and secretbattlebook.com.
– An end-of-year report says all summit events reached "nearly 2,000 attendees"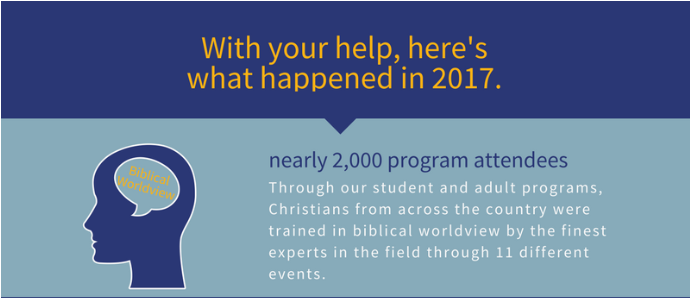 2018
– Jeff Myers announces Summit's cancellation of the California conference due to AB2943
Threads:http://religiondispatches.org/mccarthy-born-again-and-retooled-for-our-time/http://www.christiancrusade.com/memorial_edition_pages.pdfhttp://www.schwarzreport.org/