Finding the Good Mannheim Steamroller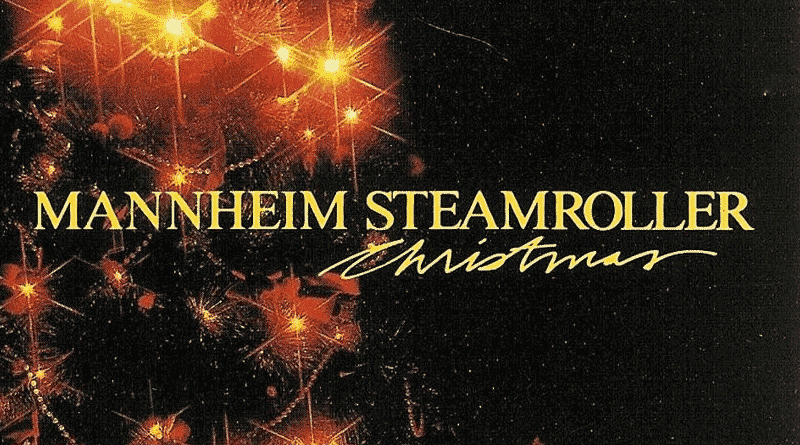 About this time last year, I tweeted,
Why is it that the radio stations never play any of the good Mannheim Steamroller?

— DavidKnoppBlog (@davidknoppblog) December 8, 2011
To which both Sarah and Christian asked, "Is there such a thing?".
Since my #PoorChipDavis hash tag didn't take off, I feel compelled to explain to the technologically chatty millennials that there is in fact good Mannheim Steamroller.
Let's start with some honesty: Mannheim Steamroller is more 80s than a Fresh Prince of Bel Aire episode.
But to be fair, the first Mannheim Steamroller Christmas Album (cleverly titled, "Christmas") was released in 1984. So having been conceived, gestated and birthed in the deepest part of an era mostof us are trying desperately to forget (unless you're buying clothes right now), I think we can forgive the egregious sounds by virtue of their organic expression.
In other words, it sounds so 80s because it is 80s.
Exhibit A: the horrendous synth lick opening up the album.
But what most people don't know is that when the ghost of pop-rock past exits stage left, the very next track enters, featuring a nice ensemble working their way through "We Three Kings".
Granted, this great start sadly walks right off the reservation after 2 minutes, when the solo instruments are rudely interrupted by an oh-so-clever synth pretending to be a harpsicord.
But we get back on track when a recorder and harp duet play "Bring A Torch, Jannete Isabella". The melody is then passed to a tastefully played oboe (if perhaps caught in a fog of reverb) that's bedded in a field of strings.
The texture and care is really quite lovely.
Now, unfortunately, it just happens to be the same sound that's used in every single Hallmark Christmas special and so the snobby in us will frantically try block out the cliche. That's too bad; there's something worth appreciating here (for instance, the incredibly aware phrasing that leads to solid breathing techniques).
And just when you think the piece is coming to a close, the melody is picked up between a flute and violin.
I cannot wait until the flute makes a comeback.
This brings us to track 4, where Coventry Carole is played between a lute and harpsichord.
The performance does seem a bit choppy –the exact opposite of what we just enjoyed the track before, but I'd argue that it's a conscious, stylistic choice. This decision makes a contrast between the long phrasing of the oboe in the track before.
That observation forms our thesis: Mannheim Steamroller's Christmas music is great when it's actually using musicians on instruments you don't have to plug in.
When they find the piece and the period instruments and the musicians who love it enough to play it like it matters, then we're treated to something truly special.
As we're contemplating the beauty in that simple formula, we're jerked back to 1984 with Good King Wenceslas who, in this version of the song, is dawning his gay apparel with a fab pair of happy pants and sporting a philly fade.
All of this can almost be forgiven by the closing vocals that come out of nowhere and educated the unwashed to the fact that there actually are words to "Good King Winsells". Who knew?
But the storm passes (if you know what I mean) as quickly as it arrived and we launch into a 4 track "Christmas Suite" featuring Renaissance Ensembles Le Dee Dah (Do ya get it? Huh? Huh? Do ya? Do ya?). This all acoustic set closes with one of my favorite arrangements of "God Rest Ye, Merry Gentlemen"
From there were thrust back into the "Too cool for school" genre with "a "hip" version of "God Rest Ye Merry, Gentlemen".
Nevertheless, there's something so organically 80s that I can't help but smile –especially at the string section. And who doesn't love a french horn puckering up to somebody who actually knows how to play the darn thing?
While we're on the subjects, We should acknowledge that this era of pop music was not kind to string players. They were handed parts that were written to rock and universally didn't. String players would eventually take matters into their own hands and start writing their own pop music –turning their tailed backsides to the keyboardist who'd been writing them up to that point. But until that day, they perched on their historically marked places and produced sounds that can only be described as the orchestral equivalent to mullet.
Seriously, if a mullet made melody, it would sounds just like this:
There are string musicians who rock and string musicians who try so desperately to rock that they just don't. And it doesn't matter how many times the conductor program Palladio, they will still never be cool as long as the orchestra manager thinks cumberbuns are an acceptable fashion statement ("Oh, That's where you can keep my rosin!").
But I digress.
The ending has something going for it:
For some reason, it always makes me think of On Our Own ("here" and here).
Thank heavens we're rescued from all that nostalgia and treated to a contemplative edition of Stille Nacht (the German title for "Silent Night").
The choral/piano duet explores a couple chords that just aren't the chords you're "supposed" to play. Chip Davis et al really take this a distance in towards the end, but every chord is played with purpose and confidence. The violin then picks up the main theme, a melodic excuse for the piano and keyboard to continue playing the same chord. The whole thing works to double the length of the melody (turning it from one bar of 6-beats to 2 bars of 6-beats) and making the piece feel much more…still.
My purpose in this little exercise is to simply point out that only 3 of the 11 tracks in Christmas indulged in the signature "Mannheim Steamroller" sound that we claim to loathe so much.
The other 8 tracks are genuinely tasteful and timeless treatments of renascence Christmas music.
You can pick up the MP3s for $8 at Amazon here (not an affiliated link). I think if you'll listen to the album instead of the radio, you'll find a easy-going transport to Christmas.